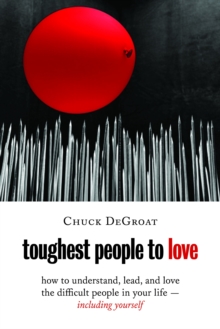 Toughest People to Love : How to Understand, Lead, and Love the Difficult People in Your Life - Including Yourself
Paperback / softback
Description
Difficult people - controlling narcissists, out-of-control addicts, the depressed, the anxious - affect leaders everywhere, from leaders of many to managers of a few.
In this book Chuck DeGroat addresses the dark side of people and offers wisdom for leaders of all types in dealing with just about anyone who frustrates them.
DeGroat's Toughest People to Love explores the basics of how people work, encouraging leaders to examine themselves as they try to figure out what makes other people tick.
Chock-full of wisdom derived from DeGroat's wealth of experience as a pastor, professor, and therapist, this book is one that countless leaders will go back to time and again for valuable insights and renewed vision.
Information
Format: Paperback / softback
Pages: 177 pages
Publisher: William B Eerdmans Publishing Co
Publication Date: 29/05/2014
Category: Christian leaders & leadership
ISBN: 9780802871435