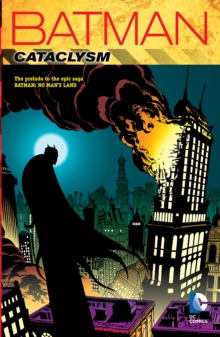 Batman Cataclysm (New Edition)
Paperback
Description
In the aftermath of a deadly plague outbreak, Gotham City is hit with amassive earthquake!
With the city quickly plunging into darkness, the only thingthat stands between Gotham and complete chaos is Batman, Robin, and the entireBat-Family.
However, with Wayne Manor collapsing into the Batcave and thecriminal residents of Blackgate Prison making a daring escape, how can the DarkKnight possibly hope to restore order? Written by legendary Bat-scribe Chuck Dixon, this classic Batman:Cataclysm epic is now re-collected in its entirety for the first time everand leads directly into Batman: No Man's Land.
Collects Batman #553-554, Detective Comics #719-721,Batman: Shadow of the Bat #73-74, Nightwing #19-20, Azrael#40, Catwoman #56-57, Robin #52-53, Batman Chronicles #12,Blackgate: Isle of Men #1, Huntress/Spoiler: Blunt Trauma #1, andBatman: Arkham Asylum: Tales of Madness #1.
Information
Format: Paperback
Pages: 464 pages
Publisher: DC Comics
Publication Date: 16/06/2015
Category: Superheroes
ISBN: 9781401255152
Free Home Delivery
on all orders
Pick up orders
from local bookshops