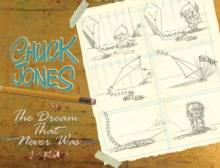 Chuck Jones The Dream That Never Was
Hardback
Description
We all harbor a secret wish that we could find a previously unseen projectby one of the greatest figures in animation history.
Well, wish no more -celebrating the 2012 centennial of Chuck Jones's birth, IDW's Library ofAmerican Comics unveils Chuck Jones: The Dream That Never Was!The Academy Award-winning director of "Duck Amuck," "What's Opera, Doc,""How The Grinch Stole Christmas," and other timeless classics, created dozens ofcartoon characters throughout his decades-long career: Pepe Le Pew,Marvin the Martian, Road Runner and Wile E.
Coyote...and Crawford, an accidentprone, nine-year-old boy whose daily routine includes surviving his own boyhood. Chuck Jones: The Dream That Never Was follows the twenty-seven yearjourney it took Jones to bring Crawford to the public, from conception tostoryboard to newspaper strip.
This incredible volume is loaded withnever-before-seen sketches, drawings, storyboards, and production notes, and thesix-month run of the Crawford newspaper comic strip from 1978. Accompanying the artwork is a biography of Chuck Jones's career in the sixtiesand seventies and how it influenced the creation of Chuck's only foray into theworld of comic stripsAnimation Magazine calls Chuck Jones: The Dream that Never Was one ofthe "10 Essential Books for Animation Students".
Free Home Delivery
on all orders
Pick up orders
from local bookshops