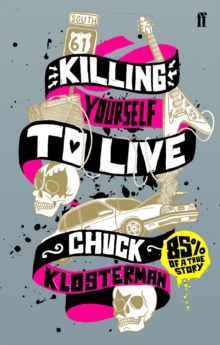 Killing Yourself to Live : 85% of a True Story
Paperback
Description
This is an uproariously funny and smart meditation on life, death, celebrity, music, why the greatest career move any musician can make is to stop breathing...and what that means for the rest of us.
For 6,557 miles, from New York to Mississippi to Seattle, Chuck Klosterman decided to chase rock 'n' roll and death across a continent.
Twenty-one days later, after three relationships, an encounter with various cotton-mouth snakes, and a night spent snorting cocaine in a graveyard, Klosterman started to order his thoughts on American culture and the meaning of celebrity.
Free Home Delivery
on all orders
Pick up orders
from local bookshops
Reviews
Showing 1 - 1 of 1 reviews.
Review by deargreenplace
16/06/2015
I have Seth Cohen (The O.C.) to thank for introducing me to Chuck Klosterman. I spotted him reading Sex, Drugs and Cocoa Puffs during an episode of The O.C., and the title of the book intrigued me so much that I had to hunt it down. It was entirely fitting that a geek of Seth's stature should be reading the work of a self-proclaimed music and pop culture geek. Of course, I use the word geek in an affectionate way, given that I myself am not entirely without geekiness (I actually took some notes while reading this book).Chuck Klosterman began his career as a journalist, writing mainly about music and popular culture. Killing Yourself To Live is his attempt to "understand why some rock stars don't start living until they die, why death equals credibility". Klosterman begins his journey at the Chelsea Hotel in New York, somewhat unsuccessfully. The hotel manager doesn't want him to talk about the hotel in his book, and insists that the room where Nancy Spungen died no longer exists. Undeterred, Klosterman picks up a rental car, stocks it with over 600 CDs for the trip, and sets off cross-country, taking in the site in Rhode Island where a fire killed over 100 Great White fans at a concert, the spot where Buddy Holly's plane came down, and a few others, culminating in a trip to Washington, where he visits Seattle and Aberdeen.Klosterman is an entertaining narrator, and the book is peppered with soundbites, musings and tenuous analogies drawn between films and music. Not since High Fidelity (the film mind, not the book), have I enjoyed hearing someone describe music in such detail before. Klosterman describes, compares and critically evaluates the music he loves (rock music mainly), though it's a meandering journey and digressions abound, mainly on the subject of his old girlfriends. He discloses a lot of personal detail about his relationships, and what went wrong with them, and there's quite an analogy near the end of the book where each ex-girlfriend is compared to a member of KISS.Near the beginning of the book, Klosterman states that "sexuality is 15% real and 85% illusion". Killing Yourself To Live is subtitled 85% Of A True Story. My powers of deduction are telling me that some of this book has been embellished somewhat, and at first I thought that this 15% illusion was to be found in the discussion of his relationships, and the almost unlikely fabulousness of the women who loved him. Then I thought it may have been in the characters he meets on his travels. I'm still undecided. The actual site visits are often fleeting and unremarkable, but that could be the point - even with the knowledge that someone died there to give a location meaning, years after the event it's just a location after all. Popular culture is assigning significance to the sites, and I think that Klosterman gets this completely. It could be argued that there is too much of the author in this book, but then maybe that's also the point. Klosterman is an avid consumer of music and films, and more importantly he is infectiously enthusiastic about his passions. I have Chuck Klosterman to thank for introducing me to the Dixie Chicks, following his discussion of their song There's Your Trouble in Sex, Drugs and Cocoa Puffs. His writing has that effect on me. I'm off now to buy more Led Zeppelin albums.