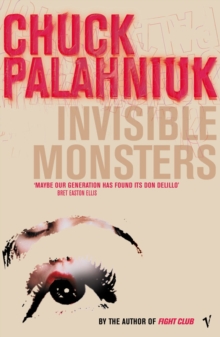 Invisible Monsters
Paperback
Description
She's a catwalk model who has everything: a boyfriend, a career, a loyal best friend.
But when a sudden motor 'accident' leaves her disfigured and incapable of speech, she goes from being the beautiful centre of attention to being an invisible monster, so hideous that no one will acknowledge she exists.
Enter Brandy Alexander, Queen Supreme, one operation away from being a real woman, who will teach her that reinventing yourself means erasing your past and making up something better, and that salvation hides in the last place you'll ever want to look.
The narrator must exact revenge upon Evie, her best friend and fellow model; kidnap Manus, her two-timing ex-boyfriend; and hit the road with Brandy in search of a brand-new past, present and future.
Information
Format: Paperback
Pages: 304 pages
Publisher: Vintage Publishing
Publication Date: 01/11/2000
ISBN: 9780099285441
Other Formats
Paperback from £7.79
EPUB from £3.99
eAudiobook MP3 from £11.72
Free Home Delivery
on all orders
Pick up orders
from local bookshops
Reviews
Showing 1 - 5 of 12 reviews.
Previous | Next
Review by HeatherLee
16/06/2015
Jump way back to my first reading this book.I don't know whether it's our culture's doing, or if it's pure human nature, but don't we just love to see a beautiful, egocentric woman torn to shreds? The irony is enough to make us salivate. Someone has blown the face off a beautiful model as she is driving on the expressway. Whodunnit? This question is almost ignored throughout this really weird and hilariously offbeat take on contemporary USA, its hidden and revealed horrors and pathos, its commercialized culture and highways, and its plain strangeness. Along this path, we meet individuals who may or may not be transgender, all-American families with really off the wall Christmas celebrations. Think contraceptives in the stockings to Perry Como crooning Christmas carols. Think name changes to match the current predicament. Think feeling shattered and invisible.
Review by stillbeing
16/06/2015
What can I say? I'm just a sucker for Palahniuk novels - I may be a slow reader, but I can devour them like deep-fried cornflakes . . . I really liked Invisable Monsters - witty, bizarre, dark yet always glam, I never found myself becoming bored or distracted, just enjoyed the ride (no matter how strange).
Review by yorkjob
16/06/2015
This book changed my life. First time a living author actually reached out and made sense beyond the predictable.
Review by arsmith
16/06/2015
A huge Palanhiuk fan, I was waiting to read this one for a long time 'cause I wanted to get it in hardback. Whaddaya know, it's not available. A good example of his work. One or two "ah hah!" moments.
Review by derekdailey
16/06/2015
A lot of people like Chuck Palanhiuk, and i think he does have some good stuff. He is good with imagery in my opinion. However this book just didn't do it for me. I'm not a fan of the use of shocking images to display points, unless it is done well. Tolstoy did it well at the end of Hadji Murad. In this Chuck did not. Sometimes it just seems like he tries to be so shocking. When i finally read the end of this my reaction was a very disappointed "what?" I wasn't confused I was just disappointed. I geuss i expected more, but most authors have their good books and bad books. Maybe the publishers were pushing him. i don't know