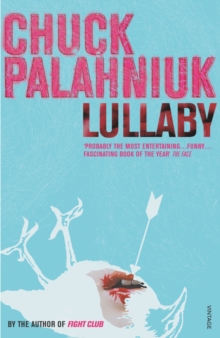 Description
Carl Streator is a reporter investigating Sudden Infant Death Syndrome for a soft-news feature.
After responding to several calls with paramedics, he notices that all the dead children were read the same poem from the same library book the night before they died.
It's a 'culling song' - an ancient African spell for euthanizing sick or old people.
Researching it, he meets a woman who killed her own child with it accidentally.
He himself accidentally killed his own wife and child with the same poem twenty years earlier.
Together, the man and the woman must find and destroy all copies of this book, and try not to kill every rude sonofabitch that gets in their way.
Lullaby is a comedy/drama/tragedy. In that order. It may also be Chuck Palahniuk's best book yet.
Information
Format: Paperback
Pages: 272 pages
Publisher: Vintage Publishing
Publication Date: 05/06/2003
ISBN: 9780099437963
Free Home Delivery
on all orders
Pick up orders
from local bookshops
Reviews
Showing 1 - 5 of 9 reviews.
Previous | Next
Review by arsmith
16/06/2015
This is one of the first Palahniuk novels I read, and it has remained one of my favorites. There is something about the way he writes that makes his work extremely compelling, even though you know he's working up to something grotesquely tragic. You can't help but keep going. Like picking at scabs. Extremely satisfying.
Review by DRFP
16/06/2015
I don't expect high literature from Chuck Palahniuk but I thought this was rather dire. I guess the main problem are the characters who are all extremely unlikeable. Our lead is all too willing for most of the book to kill people who slightly aggravate him (and thus why he doesn't kill his god awful travelling companions I do <i>not</i> know). Oyster is even worse with his desire to cull the innocent population of the planet. Helen is not all that bothered by the collateral damage they rack up either. Mona is slightly more likeable but that's really not saying much.The whole idea of the novel, which seems good on paper, is, I think, actually very poorly executed. It's not just all the copies of the book lying around and all that entails. It's also about the whole stupid idea of the grimoire, which takes the novel further out into ridiculousness. Even Palahniuk's rants felt rather feeble in this one. Unlike in his other books there seemed to be a slight lack of conviction. The awful repetition of certain sections of prose was also very annoying. I wish he'd shut up about the "calm-ophobics" and all that lot.Bah, it makes me feel bad just thinking about it. Really not a very good book. If it hadn't been on the short side I doubt I'd have managed to finish it.
Review by ngeunit1
16/06/2015
This is without a doubt one of my personal favorite Palahniuk novels for a lot of reasons. I feel this novel starts off great and takes less time to really engage you then some of his other works. From the first few pages, I really felt engaged and "into" the novel. And that feeling stayed the same throughout the entirety of the novel. This novel also had a very good thriller feeling at times. Especially during the middle of the novel, it really felt like the characters were in a race against time with such clear conflicting motives and it kept the reader on edge to see what would happen at every turn. There was a real sense of imminent danger looming in the novel that some of our characters were trying to prevent from happening, and this created a very thrilling experience. The overall message of the novel also really hit home at the end of the novel. The spread of information in our era is fast as well as wide. And if dangerous information reaches this network, it can have scary effects. This is a great novel to for both Palahniuk fans and people looking to give him a shot alike. I think it is one of his more enjoyable novels for those who have not had any experience with him and want to give his work a shot.
Review by avhacker
16/06/2015
not my favorite of palahnuiks but a great twist at the end!
Review by kirstiecat
16/06/2015
I have about 2,000 photos to edit from earlier tonight so I shouldn't be writing this by Sei Jin's review of Choke reminded me how much I hated this book. It's utter crap and it doesn't even deserve the one star I gave it. It is tripe in all shape and form. I think Kilgore Trout could write a better novel while unconscious. It's bloody awful. If I hear/read the words "culling spell" never again it will be too soon. Drivel...look it up in the dictionary and there's a picture of this so called novel. Chuck was actually coming to speak in Chicago not too long ago and a friend invited me to come along and hear him...I said no because there was just too much of a temptation for me to go up to him and ask for that three and a half hours of my life back.<br/><br/><br/>Overrated author..don't believe in burning books but if you're cold this winter and have a fireplace, I'd choose this one first.