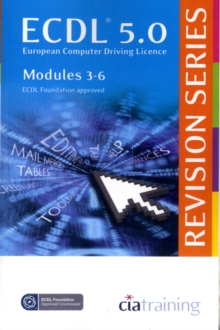 ECDL 5.0 Revision Series - Modules 3-6
Spiral bound
Description
Are you ready for the ECDL Syllabus 5 tests? Are you sure? ECDL/ICDL is one of the world's fastest growing ICT qualifications and is being operated in over 100 countries.
ECDL/ICDL is designed for those who wish to gain a qualification in computing, which allows them to develop their IT skills and boost their career prospects. "Revision Series ECDL/ICDL Syllabus 5" contains a collection of exercises that provides you with support and assistance so you can assess and improve your knowledge of Microsoft Windows and Office.
They are designed to reinforce the understanding of the skills and techniques necessary before taking the ECDL tests.
Test yourself with this collection of exercises and worked solutions for modules 3 to 6, featuring: downloadable data files that are supplied to enable you to practise techniques, without the need for data entry.
It is written specifically for ECDL/ICDL Syllabus 5 and approved by the ECDL Foundation.
It features topic revisions for emphasis on specific features of each of the software applications, and cross topic revisions, which test your knowledge in preparation for the test. Answers and fully worked solutions are provided, enabling you to assess your progress.
Information
Format: Spiral bound
Pages: 144 pages
Publisher: CiA Training Ltd
Publication Date: 28/02/2010
Category: Computer certification: ECDL
ISBN: 9781860058387