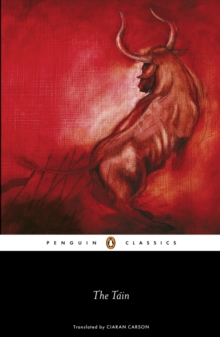 The Tain : a New Translation of the Taain Bao Cauailnge
Paperback
Description
The Tain Bo Cualinge, centrepiece of the eighth-century Ulster cycle of heroic tales, is Ireland's great epic.
It tells the story of a great cattle-raid, the invasion of Ulster by the armies of Medb and Ailill, Queen and King of Connacht, and their allies, seeking to carry off the great Brown Bull of Cualige.
The hero of the tale is Cuchulainn, the Hound of Ulster, who resists the invaders single-handed while Ulster's warriors lie sick.
Information
Format: Paperback
Pages: 256 pages
Publisher: Penguin Books Ltd
Publication Date: 02/10/2008
Category: Folklore, myths & legends
ISBN: 9780140455304
Free Home Delivery
on all orders
Pick up orders
from local bookshops
Reviews
Showing 1 - 2 of 2 reviews.
Review by shanaqui
16/06/2015
I haven't read much Irish mythology at all, so it was high time I got round to reading The Táin. It's an epic based around the feats of Cù Chulainn, as he defends the land of Ulster from the armies of Ailell and Medb. It's (here's one of my favourite words again) hyperbolic and, well, it's an epic, what do you expect? There's verse and one-on-one combats and ridiculous feats of arms involving throwing spears through boulders and so on. <br/><br/>I was actually surprised by how little I knew about The Tain. I'm sure I've read plenty about Cù Chulainn, but knew very little about what goes on in the Cattle Raid.<br/><br/>The translation seems clear and is very easy to read, though I can't comment on accuracy. The introduction is helpful, and the notes are comprehensive and informative.
Review by xuebi
16/06/2015
Ciarán Carson presents an accessible and highly readable translation of <i>The Táin</i> for a new generation of readers. <br/><br/><i>The Táin</i> is part of the Ulster Cycle of Irish mythology and along with other similar works forms a distinct genre known as <i>Táin Bó</i>, or Cattle Raid.<br/><br/>In <i>Táin Bó Cúailnge</i>, Medb the Queen of Connacht goes to war against Ulster for the sake of Brown Bull of Cúailnge. Opposing her is the mighty hero Cú Chulainn who alone stands against the assembled armies of all Ireland. Cú Chulainn then singlehandedly goes about killing all the heroes and soldiers Medb sends against him in feats of supernatural martial skill. Eventually, the rest of the Ulster armies arise from the periodic curse that afflicts them and is victorious over Medb's armies. She however is able to take back the prize Ulster bull but it kills the prize bull of Connacht and escapes. <br/><br/>This is one of the defining stories in Irish literature and Carson has ably translated the prose text; the smaller sections of Irish verse are much more cryptic and do not lend themselves to a fluid translation. Also, the traditional <i>tána</i> literature include a number of <i>remscéla</i>, or preludes, that Carson has either not included or reduced to endnotes. <br/><br/>The list of heroes Cú Chulainn kills fighting against Connacht and the list of place names named thereafter does get repetitive yet the lively and engaging spirit of Ireland's own <i>Iliad</i> is never lost. This is truly a classic of world literature.