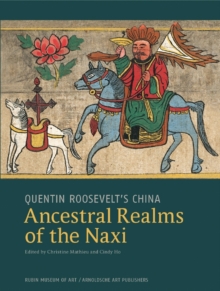 Ancestral Realms of the Naxi : Quentin Roosevelt's China
Hardback
Description
The Naxi people is an ethnic minority native to south west China, whose culture in the twentieth century has become almost extinct.
At the intersection of the advanced Tibetan civilization in the West and the Chinese in the East, the Naxi developed not only their own language, but also their own pictographic script, a rich mythology and their own religion complete with diverse rituals.
Their religion, which preserves their faith in preternatural deities and their dominion, contains elements from Lamaism, Buddhism and Taoism.
The most individual cultural achievement of the Naxi is their unique pictographic writing, which is used exclusively for religious worship.
The knowledge and practice of this writing belongs to the Dongba, a kind of priest, and also doctors with magical powers, scholars, artisans and artists.
Their scroll paintings, instruments and other ceremonial objects show a close connection with artworks from Tibet, India and China. This book offers a comprehensive introduction to the unique art, culture and religion of the Naxi through outstanding artefacts collected on his travels in 1939 by Quentin Roosevelt, the grandson of the American president Theodore Roosevelt: funeral scroll paintings of the Dongba, ceremonial banners and paintings (thangkas), painted ceremonial wooden slats symbolising gods and spirits (k'o byus), pictographic script, ceremonial objects such as musical instruments, crowns, swords and sceptres as well as a ceremonial altar.
The book provides articles on the art of the Dongba, their calligraphy and language, and essays on Naxi history, culture and society as well as on the unique place and significance of Dongba art in Asia.
Information
Format: Hardback
Pages: 200 pages
Publisher: Arnoldsche
Publication Date: 31/05/2011
Category: Family & relationships
ISBN: 9783897903432
Free Home Delivery
on all orders
Pick up orders
from local bookshops