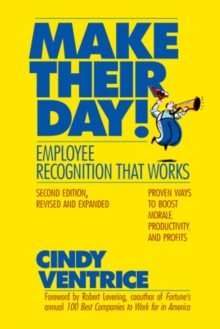 Make Their Day!: Employee Recognition That Works
Paperback / softback
Description
Companies spend billions on recognition programs by one estimate, $27 billion on noncash incentives in a single year and yet last year 65 percent of employees reported they felt unrecognized.
How is it that we are spending so much and achieving so little?
Cindy Ventrice says it's because few organizations understand what makes an employee feel truly recognized. Awards, perks, and privileges don't really motivate people don't knock themselves out for a plaque or a parking place.
Effective recognition is integrated into the daily routine of the workplace, and the key elements are intangibles: praise, thanks, opportunity for growth, and respect.
Ventrice explains what managers must do to make these kinds of rewards specific, relevant, and truly personal all vital aspects of effective recognition.
She discusses the importance of peer recognition and even self-recognition too, but in survey after survey, employees report that the recognition they most value comes from their managers and supervisors. In this revised second edition, Ventrice offers new examples of successful recognition programs from around the world and addresses providing effective recognition in an increasingly virtual work environment. And there are two completely new chapters: on understanding cultural differences in reward preferences generational, international, and other factors and on ensuring that reward practices are perceived as fair and equitable. Make Their Day! reveals what employees should expect from recognition and what managers can do to give morale and productivity a genuine, lasting boost.
Other Formats
PDF from £11.17
EPUB from £20.96
Free Home Delivery
on all orders
Pick up orders
from local bookshops
Also by Cindy Ventrice