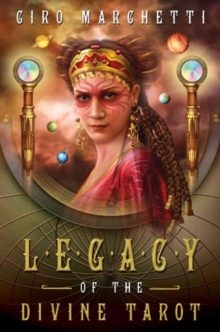 Legacy of the Divine Tarot
Mixed media product
Description
Step into a lost world from long ago, a world enshrouded in a veil of darkness after a cataclysmic collision that stilled the earth.
Millennia pass and only humankind has survived - through the divine gift of prophetic dreams.
Exquisitely rich and magical, this new tarot deck by digital artist Ciro Marchetti takes you into the heart of fantasy and guides you toward hope, wisdom, and inspiration.
An insightful companion guidebook, "Gateway to the Divine Tarot", presents the author's interpretations of each card's meaning and significance, along with additional perspectives from highly respected experts in the tarot community, including Ruth Ann and Wald Amberstone, James Ricklef, and Leisa ReFalo.
Information
Format: Mixed media product
Pages: 312 pages, 78 full colour cards
Publisher: Llewellyn Publications,U.S.
Publication Date: 01/09/2009
Category: Tarot
ISBN: 9780738715650
Free Home Delivery
on all orders
Pick up orders
from local bookshops
Reviews
Showing 1 - 1 of 1 reviews.
Review by Silvernfire
16/06/2015
Reviewing this is really to review its two components: the Tarot deck itself and its companion book, <i>Gateway to the Divine Tarot</i> (not sold separately, so if you have one you're likely to have both). Now in reviewing the deck, my lack of experience in evaluating art is going to get in the way. Basically, I think the deck is gorgeous, and that's about as sophisticated as I'm going to be able to get. The deck is clearly from the Rider-Waite-Smith tradition, but this is no RWS clone. Marchetti has taken 78 familiar themes and put his own spin on them. Some images are similar to their RWS inspirations, such as the Ten of Wands, while others, like the Three of Swords, convey the traditional idea through a completely new image (which I would attempt to describe for you, except that that saying about a picture being worth a thousand words comes to mind. I'd never do it justice).While <i>Gateway to the Divine Tarot</i> certainly wasn't a bad book, I didn't find it to be on the same level as the Tarot deck. It's not clear from the box, but the book is a joint effort of Marchetti and four contributors: Ruth Ann Amberstone, Wald Amberstone, James Ricklef, and Leisa ReFalo. The book opens with Marchetti's story of an ancient civilization destroyed in a cataclysm and its present-day influence. The bulk of the book is then devoted to discussing the cards. For each card, Marchetti gives a brief description and often explains the symbolism he included. The Amberstones and Ricklef then add commentary and ReFalo concludes by adding keywords, traditional symbolism, and advice. Finally, ReFalo has written a beginner's guide to reading the cards, including a number of spreads. I just didn't get into the introductory story very well, and while I was interested in learning more about Marchetti's take on the cards, the card descriptions felt a bit choppy. I get the impression the contributors worked separately and their words were later compiled by an editor. While a beginners' section was needed, this one was so short that I'm not sure how much help it would be for beginners. They might wish to find another book or two to help them with the basics of reading the cards, but hang on to this one for the author/artist's explanations. But chances are, you were buying this set for those lovely cards more than for the book, right? I certainly was, so four-and-a-half stars for the deck and just a smidgen off for the book.