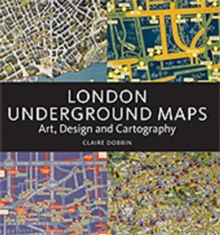 London Underground Maps : Art, Design and Cartography
Hardback
Description
By documenting and guiding us on the journeys we make every day, maps influence the way we navigate and identify with our surroundings.
The Underground, London Transport, and its successor Transport for London have produced and inspired maps which are navigational, decorative forms of publicity and works of art.
This book, which draws on the rich collections of the London Transport Museum, sets out to explore this unique form of visual communication. Covering the period from 1900 to the present day, Claire Dobbin's fascinating narrative provides a chronological account of the mapping of London's Underground.
Starting with the magnificent early twentieth-century decorative maps of Macdonald Gill, the evolution of London's diagrammatic Underground map, introduced by Harry Beck's iconic 1931 design, is expertly told.
The legacy of Beck's inspiring design is highlighted through selected maps, artworks, posters and merchandise. Incorporating design, art, cartographic, social and transport history, London Underground Maps provides a fascinating account of the capital's innovative approach to decoding and promoting its complex underground network. An accessible narrative coupled with first-class imagery make this book a must for lovers of art, design and cartography as well as the history of London.
Information
Format: Hardback
Pages: 136 pages
Publisher: Lund Humphries Publishers Ltd
Publication Date: 28/05/2012
ISBN: 9781848221048