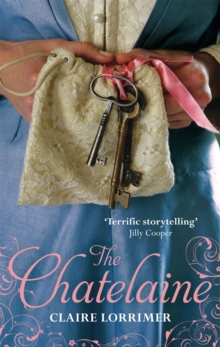 The Chatelaine : Rochford Saga
Paperback
Description
Only Willoughby Tetford, the American self-made millionaire, was shrewd enough to have any misgivings when his beautiful daughter, Willow, married the handsome English aristocrat.
Willow herself, seventeen, innocent and deeply in love with her new husband, Rowell Rochford, had complete trust and confidence in the future as she arrived at Rochford Manor in England. And when Rowell's matriarchal French grandmother handed her the keys of the house and told she was the new Chatelaine, Willow believed she held the keys not only to the multitude of rooms of which she was now the mistress but also to love and happiness. On her arrival, she is greeted warmly by her four brothers-in-law: Tony, quiet and studious; Pelham, teasing and flirtatious, the spoilt Francis and the sensitive Rupert.
But she has no inkling of the obsession which grips old Lady Rochford because of events in the past to which she, Willow is ignorant.
Nor does she realise the terrible repercussions the obsession will have on her own life.
Information
Format: Paperback
Pages: 640 pages
Publisher: Little, Brown Book Group
Publication Date: 05/05/2011
Category: Historical romance
ISBN: 9780749954222
Free Home Delivery
on all orders
Pick up orders
from local bookshops
Reviews
Showing 1 - 1 of 1 reviews.
Review by AdonisGuilfoyle
16/06/2015
Reading the first novel in Claire Lorrimer's 'Rochford' trilogy was a guilty pleasure. The story and characters are best described as Victorian-era soap opera fodder, where unlikely and melodramatic events happen to the same few people. Fifteen year old American heiress Willow Tetford stays with the Rochford family in their ancestral home, and falls in love with eldest son Rowell. Against her millionaire industrialist father's better judgement, she marries him at sixteen and moves permanently to England to live with him and his family, becoming the 'chatelaine' of Rochford Manor. Rowell, of course, has only married her for her inheritance, because the Rochfords have been living in genteel poverty for generations, but she only finds that fact out after much time and suffering. The Rochfords are matriarch Grandmére, the mother of Rowell's late father Oliver, Grandmére's sister Aunty Milly the spinster, invalid daughter Dodie, and five sons, Rowell, Francis, Pelham, Rupert and Toby. Two young girls died tragically from diphtheria, which Grandmére attributed to a weak mental strain from the mother, Alice, who also died giving birth to Dodie. Here's where the fun starts – beautiful, intelligent but utterly naïve Willow dotes on husband Rowell, who loves only himself. Brothers-in-law Pelham and Toby also love Willow, one of them for her body, the other for her mind. (In fact, everyone loves Willow, even Rupert, who is gay – naturellement – and Grandmére, who grudgingly respects the only family member with balls enough to stand up to the old woman.) Willow moons after her useless and selfish spouse, but when she learns about his secret other life, the penny drops and she realises that she probably married the wrong brother. After 'losing' her first baby daughter, Willow suddenly becomes hypersexed, turned on by any man who touches her, and allows one of the brothers to 'rape' her ('No! Don't! Stop! No – don't stop!'). As in most family sagas, this illicit act results in a baby. The conception of Willow's second daughter is even more elaborate. Such revelations are not even 'spoiling' the plot, because Lorrimer signposts every twist and turn with less than subtle foreshadowing – people die at convenient times, after helpfully disclosing pertinent family secrets, and paths cross with uncanny accuracy. For all the great clunking clichés of historical family sagas contained within – the first novel stretches twenty years from the late Victorian era into the Edwardian and out the other end – The Chatelaine is still vastly entertaining, and I am tempted to read the next two instalments. Definitely give Lorrimer a go – the characters are two-dimensional yet strangely likeable, apart from the pantomime villains, and the history is dutifully and accurately researched. Any fans of Downton Abbey are sure to love this excitable, enjoyable claptrap!
Also in the Rochford Trilogy series | View all