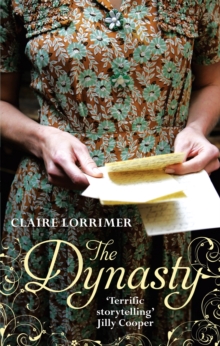 The Dynasty : Number 3 in series
Paperback
Description
Young, headstrong and wilful, Zandra Rochford marries her first love, Anthony Wisson, believing that his success and strength of character match his good looks and extraordinary generosity.
She is unaware that it is her connection to the respected Rochford family that has prompted his offer of marriage.
As her eyes are opened to the truth of her husband's cruelty, she turns more frequently to Guy Bristow, her husband's personal assistant, whose values and ideals match her own.On the outbreak of the Second World War, Guy is captured at Dunkirk and now not only he but all the members of the Rochford family face terrible danger as the German invasion becomes imminent...
Information
Format: Paperback
Pages: 560 pages
Publisher: Little, Brown Book Group
Publication Date: 07/07/2011
Category: Historical romance
ISBN: 9780749954321
Free Home Delivery
on all orders
Pick up orders
from local bookshops
Reviews
Showing 1 - 1 of 1 reviews.
Review by AdonisGuilfoyle
16/06/2015
Oh dear. Never in the running for literary gold, Claire Lorrimer's writing has slipped even further down the scale, from Philippa Gregory in <i>The Chatelaine</i>, to Baroness Orczy in <i>The Wilderling</i>, before finally regressing to Enid Blyton in <i>The Dynasty</i>. Like badly written fan fiction, every other sentence ends in an exclamation mark, and pronouns have qualifiers - 'He, Guy, thought ... said ...' Also, the chirpy terms of endearment are straight out of a spoof radio show, with 'darlings' and 'old chaps' abound. Nor could the story or the characters themselves excuse the dreadful technical style, this time. <i>The Dynasty</i> is a tying up of the Rochford family's loose ends, set during the late thirties and into the Second World War, with the spotlight on Willow's niece, Zandra (daughter of the crippled Dodie, who is unceremoniously killed off mid-trilogy). I had high hopes for Zandra, based on her youthful exuberance and confidence in the second novel, but she too disappoints by marrying a pantomime villain. Are we meant to feel sorry for Anthony Wisson, or boo him off stage? The man is an arrogant little peasant who envies the haves of this world, and marries a Rochford to propel himself the rest of the way up the social ladder. Obviously neither his immigrant parents nor the bullies at public school told him that money alone can't buy class or respect. He's so 'evil' that it's laughable - his one facial expression is a narrowing of the eyes and a tightening of the lips (showing distaste/anger/repressed memories, etc.) A few shades of grey might have made Zandra's long, drawn-out sentence of marriage either more interesting, or less obvious, instead of merely echoing Willow's first disastrous union with Rowell Rochford.The pacing is similarly atrocious - Anthony's sadistic treatment of Zandra sort of peters out during the war, everyone accepts steady but dull Guy Bristow into the fold, and Rochford Manor is once again turned into a convalescent home for wounded soldiers. The safe house in France, and the shocking deception at home, come rather too late to counter the first 500 pages of repetitive dialogue and clumsy infodumps, I'm afraid.I would definitely recommend <i>The Chatelaine</i>, and Lucy in <i>The Wilderling</i> is a worthy heroine like her mother, but don't bother with Zandra's story.
Also in the Rochford Trilogy series | View all