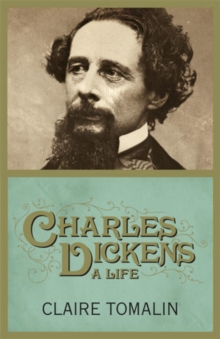 Charles Dickens : A Life
Hardback
Description
Charles Dickens was a phenomenon: a demonicly hardworking journalist, the father of ten children, a tireless walker and traveller, a supporter of liberal social causes, but most of all a great novelist - the creator of characters who live immortally in the English imagination: the Artful Dodger, Mr Pickwick, Pip, David Copperfield, Little Nell, Lady Dedlock, and many more.At the age of twelve he was sent to work in a blacking factory by his affectionate but feckless parents.
From these unpromising beginnings, he rose to scale all the social and literary heights, entirely through his own efforts.
When he died, the world mourned, and he was buried - against his wishes - in Westminster Abbey.Yet the brilliance concealed a divided character: a republican, he disliked America; sentimental about the family in his writings, he took up passionately with a young actress; usually generous, he cut off his impecunious children.
Claire Tomalin, author of Whitbread Book of the Year Samuel Pepys, paints an unforgettable portrait of Dickens, capturing brilliantly the complex character of this great genius.
Charles Dickens: A Life is the examination of Dickens we deserve.
Information
Format: Hardback
Pages: 576 pages, Three 8-page insets
Publisher: Penguin Books Ltd
Publication Date: 06/10/2011
Category: Biography: literary
ISBN: 9780670917679
Other Formats
Paperback from £8.59
EPUB from £5.49
eAudiobook MP3 from £9.60
Free Home Delivery
on all orders
Pick up orders
from local bookshops
Reviews
Showing 1 - 5 of 6 reviews.
Previous | Next
Review by souloftherose
16/06/2015
I often find that it takes me longer to read a non-fiction book compared to a fiction book but I devoured this book over the course of three days, pausing only to scribble notes, quotes and thoughts in a notebook and occasionally to eat, drink and sleep as required. This is an incredibly readable biography.As someone who's read all of Dickens finished novels and is currently rereading them in publication order, I found it fascinating to read about Dickens' life, and it helped me get a better understanding of his books. Some points, like his father's imprisonment for debt in the Marshalsea and Dickens' first job in a blacking factory at the age of twelve, I was already aware of but I didn't know about the arguments he'd had with his publishers or that it was the periodicals Dickens edited which first published stories by other Victorian writers like Elizabeth Gaskell and George Eliot.As always, Tomalin is a sympathetic biographer although she doesn't gloss over Dickens' flaws and failings, whether in his life or in his books. It's hard to excuse or justify his behaviour to his wife during and after their separation as anything other than appalling. And yet he was also capable of great generosity, setting up a home for prostitutes or women thought likely to be at risk of becoming prostitutes so that they could be educated and then start new lives in the colonies. Tomalin reconciles these extremes of behaviour by quoting from a discussion Dickens had with Dostoevsky which Dostoevsky recorded in his diary:<i>"He [Dickens] told me that all the good simple people in his novels, Little Nell, even the holy simpletons like Barnaby Rudge, are what he wanted to have been, and his villains were what he was (or rather, what he found in himself), his cruelty, his attacks of causeless enmity towards those who were helpless and looked to him for comfort, his shrinking from those whom he ought to love, being used up in what he wrote. There were two people in him, he told me: one who feels as he ought to feel and one who feels the opposite. From the one who feels the opposite I make my evil characters, from the one who feels as a man ought to feel I try to live my life. Only two people? I asked."</i>Tomalin also includes her theories on Dickens' relationship with the actress Nelly Ternan after his separation from his wife (which I believe she goes into in more detail in her earlier book, The Invisible Woman). I know that this is an area where other biographers disagree with Tomalin and given the lack of evidence I think it's ultimately impossible to conclude either way. Having said that, Tomalin's theory fits the available facts and she makes it clear that this is educated speculation and that other biographers disagree. I found her theory interesting to read about even if we can never know what really happened between Dickens and Nelly Ternan.The overall impression I got from the biography was that Dickens was truly a larger than life character. After experiencing poverty as a child he was never able to feel he could rest on his laurels, even once he'd reached a secure financial position with the publication of Dombey and Son. He was always busy with projects, with plays, with travelling or with writing:<i>"Dickens kept going by taking on too much. He knew no other way to live, and no day went by in which he did not stretch himself, physically, socially and emotionally."</i>A fascinating biography of a fascinating man, I was left feeling that Dickens truly was 'the inimitable'. If this book doesn't win some kind of award I will be very disappointed.
Review by Maura49
16/06/2015
Claire Tomalin begins her biography of Dickens with a bold stroke, a prologue in which many of his finer characteristics are displayed through an examination of his membership of a Jury and subsequent energetic efforts on behalf of the accused, a girl dealt a poor hand in life. She is careful to show both the positive and the negative aspects of Dickens complex character, concluding that " ..everyone finds their own version of Charles Dickens."At around 400 pages this is quite a short biography of a man who packed so much into his 58 years, and inevitably some things are dealt with more briskly than others. I would have liked more on his friendship with Wilkie Collins who had a big effect on his life and art in Dickens later years. However I thought that Ms Tomalin provided some really fresh insights into his friendship with John Forster, more like a brother really.I found that the book sagged a bit at times with endless lists of activities and dates which meant little, and I sensed the author's boredom here. It was noticeable that the book gathered energy once she reached the period of Dickens separation from his wife and relationship with Ellen Ternan. This is familiar territory of course, covered in depth in her previous book, "The Invisible Woman."I did not always feel that she liked the books, and one has sympathy with her impatience for women in Dickens who are frequently one- dimensional and colourless. She does mention Rosa Dartle from "David Copperfield," but I would have liked some appreciation for the complex Miss Wade in "Little Dorrit." She is a biographer who takes an objective approach and while I missed the specialist insights of those who have written extensively on Dickens, I eventually decided that Claire Tomalin's cooler approach has it's merits., allowing one the distance to see her subject in the round. The relative brevity of the book gives it a satisfying shapeliness and her concluding comments on this extraordinary man could hardly be bettered:"Too mixed to be a gentleman-but wonderful. The irreplaceableand unrepeatable Boz. The brilliance in the room. The inimitable."
Review by Eyejaybee
16/06/2015
A very enjoyable and comprehensively-researched biography of the great novelist. While essentially favourably inclined, Tomalin's work is a not a hagiography, and she does not refrain from criticising some of Dickens's dreadful behaviour, especially his treatment of Catherine, his long-suffering wife. Still, she does put the novels in an interesting context.I hadn't appreciated the extent to which, for the grater part of his life, he was so desperately driven by the need to keep earning. Of course, everyone knows of his poor upbringing, and his stint in the blacking family to help support the family while his father was incarcerated in Marshalsea Prison as a consequence of his debts, and one can perfectly understand how that would give Charles a terror of finding himself poor again. However, I was amazed to read of the constant and relentless financial demands he placed upon his publishers as she struggled to maintain not just the various spendthrift members of his family but also a selection of properties around London and the south east of England.His father was a particularly dreadful character, continually running up debts and seemingly quite happy either to forge his son's name or just to have bills sent to his son's publisher. This profligacy was passed on to Charles's brothers, and seems also to have been inherited by a couple of his sons.Still, essentially it is his writing that really counts and Claire Tomalin handles this very sympathetically and clearly. The novels are summarised with great simplicity and clarity, and their context within Dickens's life is comprehensively mapped. As with her 2003 biography of Samuel Pepys Tomalin has taken someone about most people think that they know a fair amount, and managed to engae the reader's attention with a startling illumination of their life.
Review by gogglemiss
16/06/2015
Fascinating account of the Great Man, whose indefatigable mind and energy made him one of the greatest storytellers of the Victorian era and beyond. Writer, journalist, actor,editor and entertainer, he didn't beleive in being idle. He thought nothing of taking long walks near his homes in London and Kent and elsewhere, for inspiration. Great read
Review by john257hopper
16/06/2015
This was a tremendously engagingly written biography.  It puts across a great sense of Dickens's multiple interests, as author, editor, journalist, social reformer, public idol and many more. The receptions accorded him during his later public readings are like those now accorded to pop stars. At the same time, the author builds on her earlier work on the potentially scandalous secret relationship between Dickens and Ellen Ternan, which was denied for many decades after his death, though now it seems extremely difficult to gainsay the weight of evidence in its favour. The author varies in her coverage of the novels, with rather more description and analysis of the novels of the mid-period from Dombey and Son to Little Dorrit, but rather less for earlier and later ones, with the exception of Our Mutual Friend. This is a much more readable biography than Peter Ackroyd's monumental 1144 page book that I read over a period of two and a half months in 2009.  That was too detailed and both exhaustively and exhaustingly long winded, whereas Tomalin covers the many facets of Dickens's life and literary career very effectively in just over 400 pages.  The book comes with useful lists of family members (a genealogy might have been useful) and associates, and places in London and Kent connected with his life. The hardback has lovely illustrations in the inside front and back covers and is an  hardback with an illustrated cover but without a dust jacket, not often seen these days. In sum, for lots of reasons, a great reading experience. (Thanks for lending it to me, Ian!)