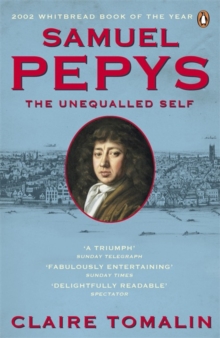 Samuel Pepys : The Unequalled Self
Paperback
Description
Samuel Pepys is the astonishing biography by bestselling author Claire Tomalin 2002 WHITBREAD BOOK OF THE YEAR 'Immaculately well done.
Tomalin has managed to unearth a wealth of material about the uncharted life of Samuel Pepys' Craig Brown, Mail on Sunday 'Sex, drink, plague, fire, music, marital conflict, the fall of kings, corruption and courage in public life, wars, navies, public execution, incarceration in the Tower: Samuel Pepys's life is full of irresistible material, and Claire Tomalin seizes it with both hands.
Fast, vivid, accessible' Hermione Lee, Guardian 'A rich, thoughtful and deeply satisfying account.
It takes us behind and beyond the diary - which means that, on finishing it, we can reread the diary with greater pleasure and understanding then ever before' Noel Malcolm, Evening Standard 'In Claire Tomalin, Pepys has found the biographer he deserves.
Her perceptive, level-headed book finally restores to the life of the diarist its weight and dignity' Lisa Jardine, New Statesman 'A great achievement and a huge pleasure. A vivid chronicle of contemporary history seen through the all too human preoccupations of this ordinary and extraordinary man' Diana Souhami, Independent From the acclaimed author of Charles Dickens: A Life and The Invisible Woman, this celebrated biography casts new light on the remarkable diaries of Pepys and brings his story vividly to life once more. Claire Tomalin is the award-winning author of eight highly acclaimed biographies, including: The Life and Death of Mary Wollstonecraft; Shelley and His World; Katherine Mansfield: A Secret Life; The Invisible Woman: The Story of Nelly Ternan and Charles Dickens; Mrs Jordan's Profession; Jane Austen: A Life; Samuel Pepys: The Unequalled Self; Thomas Hardy: The Time-Torn Man and, most recently, Charles Dickens: A Life.
A former literary editor of the New Statesman and the Sunday Times, she is married to the playwright and novelist Michael Frayn.
Information
Format: Paperback
Pages: 576 pages, 24pp inset
Publisher: Penguin Books Ltd
Publication Date: 21/06/2012
ISBN: 9780241963265
Free Home Delivery
on all orders
Pick up orders
from local bookshops
Reviews
Showing 1 - 1 of 1 reviews.
Review by Mercury57
16/06/2015
Plague, fire, civil war, treason, the fall of kings: Samuel Pepys experienced them all. His was a life that coincided with one of the most momentous periods of English history and he recorded his experiences in meticulous detail in leather-bound diaries writing every day for nine years.Such a rich source of original material would be a gift for any biographer but for Claire Tomalin they didn't go far enough because they tell us nothing of Pepys' childhood and education or, after the Restoration, his public disgrace and humiliation. Through extensive research and examination of contemporary letters and diaries, Admiralty papers, judicial reports, memoirs and biographies, she seeks to fill in these considerable gaps in Pepys' story.Tomalin tells the story with panache and energy. Although she has to resort to guess-work and surmise on some occasions, she never stretches credulity too far. Nor, although much of what she writes is necessarily full of facts, she never allows that detail to get in the way of telling a good story. One of the most memorable episodes she tells is of the operation Pepys underwent to remove the bladder stone which had given him excruciating pain for decades. In Tomalin's imaginative re-creation we experience the same tension Pepys must have felt as he was trussed and bound to the bed and sense every moment of the operation he suffered without the benefit of anaesthetic or numbing alcohol.Tomalin treats her subject with warmth, enjoying his pleasure in ordinary human activities and admiring his curiousity, his love and support for learning and his intelligence. She acknowledges his egotism, his often bad treatment of the women in his life and his lecherous behaviour but concludes that these never dim his brightness so we 'rarely lose all sympathy for him. His energy burns off blame." It's a credit to Tomalin's skill that we come to share her enthusiasm for this 'most ordinary and the most extraordinary' of men.