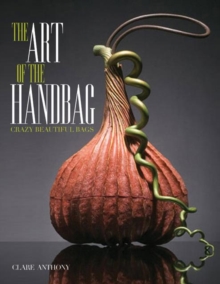 Art of the Handbag : Crazy Beautiful Bags
Hardback
Description
"I find that it is vital to have at least one handbag for each of the ten types of social occasions."-Miss Piggy Most women would agree with Miss Piggy-and even those who didn't would think one bag for all occasions isn't really enough.
Ever since the reticule came into style after the French Revolution, women have been attached to their handbags. And whether you're a woman of leisure who wants a tiny bag to carry a lipstick, comb, and mirror or a working woman who needs a satchel to hold your cell phone, e-reader, laptop, water bottle, makeup, lunch, and whatever else you need in the course of a long day, you're sure to be enchanted by the variety of bags featured in this lavishly illustrated book.
A wonderful range of bags is presented--from Judith Leiber's sculpted, crystal-studded metal "minaudieres" to James Piatt's "Peacekeeper" handbag with its knuckleduster handle, from Lulu Guinness's red snakeskin "Lips" clutch to Hester van Eeghen's elegant "Monocle" bag, from Kathleen Dustin's exquisite "Rose Bud" wrist purse to Ines Figaredo's retro "Telephone" shoulder bag.
It's a showcase gallery of 25 contemporary handbag designers, and it features over 100 artful creations. The crazy beautiful bags in this book provide perfect accents for every wardrobe.
Information
Format: Hardback
Pages: 160 pages
Publisher: Race Point Publishing
Publication Date: 06/11/2013
Category: Fashion & textiles: design
ISBN: 9781937994297