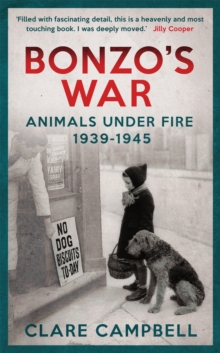 Bonzo's War : Animals Under Fire 1939 -1945
Paperback
Description
What was it like to be a dog or cat when the world was at war?
When food was rationed and cities were bombed? Pets (on the whole) do not write memoirs, so to find the answer to that question, Clare Campbell went in search of voices of those people whose lives were entwined with animals.She found stories - inspiring and harrowing - of animals under fire, of evacuated and homeless pets, of brave animals who provided comfort to humans while the bombs fell.
Of pets unwittingly entangled in war, like the Dunkirk pets and the camp followers who switched sides to stay alive; and the 6,000 dogs recruited by the British Army - loaned for duty by their families - many never to return.
Meanwhile with food in short supply, government officials launched a ruthless campaigns against pets...
Thoroughly researched and deeply moving, Bonzo's War gives a fascinating account of, and platform for, the forgotten stories as yet unheard, of the creatures big and small caught up in a human conflict far beyond understanding.
Information
Format: Paperback
Pages: 416 pages
Publisher: Little, Brown Book Group
Publication Date: 06/03/2014
Category: Second World War
ISBN: 9781472106803
Free Home Delivery
on all orders
Pick up orders
from local bookshops
Reviews
Showing 1 - 1 of 1 reviews.
Review by WaltNoise
27/08/2015
Bonzo's War is an interesting book on the effect of war on the animal population of Britain during the Second World War. It is an important book for pet owners and policy makers because of its account of the hysteria that led to the voluntary destruction of over half a million cats and dogs in the first weeks of the war. These animals were killed by their loving owners, not a despotic government, for no valid reason.An uninformed and hysterical official of the Ministry of Home Security warned Britons to euthanize their pets before the Germans started dropping tons of poison gas and incendiaries on British cities. It would save their pets from a horrible death. And if their pets did survive the aerial onslaught, they'd just starve to death anyway. Amazingly, the BBC actively promoted this view. So did most animal 'protection' charities. Jumping on the patriotic bandwagon brought them increased funding for the 'humane' destruction of healthy animals.The hysteria built, and the deaths continued, despite opposition from most of the British government. The Ministry of Agriculture knew that farmers would need dogs to herd sheep and protect poultry from predators, as well as cats to protect crops, granaries and warehouses from rodents. The Ministry of Health feared the spread of rodent-borne disease in bomb-damaged cities devoid of cats. The Ministry of Defence knew that civilian dogs would be needed to breed guard dogs and other military dogs. The hysteria lessened during the Phony War, but arose again during the invasion scare after Dunkirk and again during the Blitz.With most people today getting their news from cable TV or social media, the danger of this sort of hysteria is greater than in 1939. The BBC couldn't approach the subject objectively or take the time to check with competent government agencies. Do we think today's talking heads or bloggers would do better? In 2006, one cat in Germany died of avian flu. Across Europe, thousands of cats were abandoned or turned into animal shelters. Only three other cats were found to have the disease, and there were no cases of transmission to humans. Pet owners and policy makers need to be prepared to deal with this sort of hysteria in the event of pandemic or war.