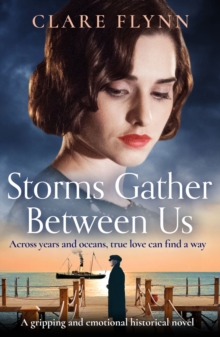 Storms Gather Between Us : A gripping and emotional historical novel
Paperback / softback
Description
Life can change in a single moment...Living under the watchful eye of her controlling and abusive father, Hannah Dawson's hopes for freedom and happiness seem a distant dream.
Her mother, passive and ashamed of her self-preservation, refuses to challenge her husband.
It is the mysterious circumstances of her long-lost Aunt Lizzie's disappearance in the 1920s that inspires Hannah to seek a better life.
Since escaping his family's notoriety in Australia Will Kidd has spent a decade sailing the seas, never looking back.
Content to live the life of a wanderer, everything changes in a single moment when he comes face to face with a ghost from his past on a cloudy beach in Liverpool. Hannah and Will are thrown together by fate and bonded by secrets from long ago.
Now, they discover a love like no other. But with Hannah's father determined to see her wed to a man of his choosing they must fight against a tyrant who has ruined many lives.
Even if they succeed, can they escape the chains of their histories? And will their plans for a future be possible when the whole world is changing forever...? A compelling tale of family secrets and undeniable love against the odds, perfect for fans of Susanne Goldring and Fiona Valpy. Praise for Storms Gather Between Us 'Another great book by Clare Flynn' Reader Review'A really gripping and moving pre WWII story' Reader Review'I would recommend this book without hesitation' Reader Review'Very descriptive, immersive and well written.
This book is guaranteed to make you turn each and every page.' Reader Review'I was totally gripped from the first page' Reader Review'Although this novel follows Flynn's A Greater World, it can stand alone, since the characters' backstories are introduced non-intrusively.
Will's exploits on the seas and in coastal regions, notably Zanzibar and Naples, and Hannah's confined life and mannerisms in pre-WWII Liverpool are presented vividly, displaying the author's talent and extensive research.
The descriptions of the sea voyages and locales are undoubtedly based on Flynn's travels.
The novel's skillful plot elucidates the harsh treatment of some women during the period.
Readers will look forward to the sequel. Recommended.' Historical Novel Society
Information
Format: Paperback / softback
Pages: 384 pages
Publisher: Canelo
Publication Date: 15/08/2019
Category: Historical romance
ISBN: 9781788635646