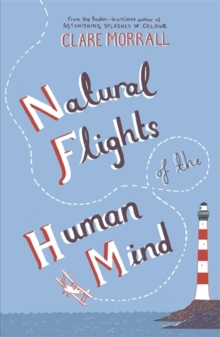 Natural Flights of the Human Mind
Paperback
Description
In a disused lighthouse on the Devon coast lives Peter Straker, a recluse who, in his dreams, is visited by an oddly disparate group of people from a grandmother to a teenager.
But they have all been dead for 24 years - and Straker thinks he killed them. Many years ago, newly-married Imogen Doody's husband went to work one day and never came back, leaving her angry at life and other people.
Now Imogen has inherited a cottage near Straker's lighthouse, a piece of good fortune she badly needs.
But the cottage is falling down, and she needs help restoring it...Guilt, emotional bruising and a Tiger Moth plane lie at the heart of this story of two misfits.
Related with infectious warmth and wit, it is a testament to the essential goodness and resilience of the human spirit.
Information
Format: Paperback
Pages: 400 pages
Publisher: Hodder & Stoughton General Division
Publication Date: 01/07/2006
ISBN: 9780340896518
Free Home Delivery
on all orders
Pick up orders
from local bookshops
Reviews
Showing 1 - 2 of 2 reviews.
Review by arkgirl1
16/06/2015
Having read another book by Clare Morrall I was looking forward to reading this and wasn't disappointed. As with 'Astonishing Splashes of Colour' she writes very rounded characters who are misfits in society but she writes about them with warmth and humour that draw you into their stories. It is an interesting exploration into where responsibilty for our actions lies and the parental influences which lead us to crossroads/decisions in our lives. The only slight quibble is about the role of coincidence in the plot which calls you to suspend your disbelief about just how many links there can be between 2 complete strangers! That being said I forgive the author because it is a beautifully told tale.
Review by qquiet
16/06/2015
What if you were responsible for taking away the lives of 78 people? And what about the lives of the people they left behind? <br/><br/>These are just some questions tackled in the book. It's a story about redemption, forgiveness, and the unlikely people you meet that help you bring back together the pieces of your life. <br/><br/>This book was a pleasant surprise for me, considering I only bought this book because it was really really cheap, and I bought it so I wouldn't be embarrassed at not buying a book in a bookstore, and also I was desperate at the time to find a fresh book to just <i>read</i>.<br/><br/>And the book was like a breath of fresh air for me. The subject matter is not the kind I actually look out for. I mean, redemption? Forgiveness? Hardly a popular topic, at least to me. But Morrall wrote it so it was kind of a mystery as to how Peter Straker could feel responsible for the lives of 78 people, and how they all died, and even Imogen Doody's mysterious past and what happened to her husband. <br/><br/>I guess it tackles more on the <i>not knowing</i>. Not knowing how your irresponsible act affected the lives of the people. Not knowing that today is going to be your last day. Not knowing whether or not the person you loved is dead or just missing. Not knowing how your life is entangled with your unexpected friend's life. <br/><br/>It was handled very well. Imogen and Peter's friendship was an unlikely one, but sometimes it is the most unlikely people that change your life. It's the beauty of forming friendships.<br/><br/>I look forward to another Clare Morall novel.