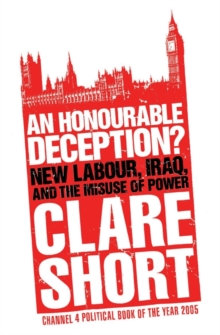 "An Honourable Deception: New Labour,Iraq,and the Misuse of Power "
Paperback
Description
Clare Short MP has been one of the government's most outspoken critics, despite having been a member of it for most of its two terms of office since 1997.
Her resignation from the Cabinet over the war in Iraq in 2003 caused a furore -- not least because she had already threatened to go a few months earlier.
Why did she delay? Why did she then decide to go? What is at the heart of her reservations about the New Labour style of government, and how does it affect the way we all live our lives?
Writing 'more in sorrow than in anger', Clare Short now reveals her thinking about all aspects of the way Britain has been run since 1997.
Drawing on her first-hand experience of events at the heart of power, she assesses the true effects of the centralisation of decision-making in Number 10 and shows us how New Labour has contrived to damage the goodwill afforded it by two successive three-figure majorities.
Candid and forthright, lucid and thought-provoking, this is a major book about modern Britain.
Information
Format: Paperback
Pages: 320 pages
Publisher: Simon & Schuster
Publication Date: 01/09/2005
Category: Political leaders & leadership
ISBN: 9780743263931
Free Home Delivery
on all orders
Pick up orders
from local bookshops
Reviews
Showing 1 - 1 of 1 reviews.
Review by the.ken.petersen
16/06/2015
Having read this book, I believe that Clare Short is too decent a person to be a leading politician. I believe that her concerns are heartfelt and, in some cases, worthy of a public airing. My complaint would be that she does appear somewhat naive: the fact that briefings pre the Iraq war were skewed to boost the American and British perspective seems to me, to hardly rate a newsworthy status. Ms Short does, however, touch several times upon an important factor within UK politics which is worthy of discussion namely, the slide into a presidential style of government. I fear that the cabinet style of leadership, which has served this country for so many centuries cannot survive the onslaught of the modern media. Twenty years ago, a cabinet could discuss possible solutions to a perceived problem, even contemplating courses of action that would be considered shocking, were the public to be privy to these ideas. Nowadays, decisions are expected to be instantaneous and any 'thinking outside of the box' is leaked to the media by one side or the other. It therefore becomes inevitable that discussion is between small cliques of like-minded individuals and that cabinet government passes into history.Clare Short also raises concerns about our first past the post voting system which has given successive Governments hefty majorities within the House of Commons based upon less than fifty per cent of the votes cast. This, to my mind, is the more significant fault because, if the electorate feel that their vote makes no difference, there is a real danger of a reduced turn out and that is when extremists can gain power. Sadly this concern with the electoral system only appears for a few fleeting pages towards the end of the book and is not explored in any detail.This book was an interesting read, particularly after reading 'The Blair Years' in which Alistair Campbell makes plain his contempt of Ms Short's views. The two tomes give a rounded aspect to Britain's role in the Middle East.
Also by Clare Short