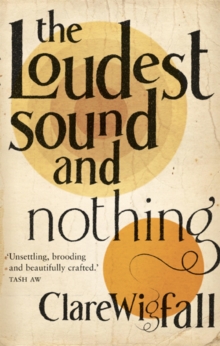 Loudest Sound and Nothing
Paperback
Description
The characters in Clare Wigfall's first collection of stories are all searching for something missing.
As they go about their seemingly ordinary lives, the dark undercurrent of life, with all its complications and imperfections, is gradually revealed.
Skilfully wrought and perfectly pitched, the stories have been acclaimed as the work of a prodigious new talent.
Information
Format: Paperback
Pages: 240 pages
Publisher: Faber & Faber
Publication Date: 21/08/2008
ISBN: 9780571241064
Free Home Delivery
on all orders
Pick up orders
from local bookshops
Reviews
Showing 1 - 1 of 1 reviews.
Review by Bogomips
16/06/2015
"Somebody looked at her, standing before the drowned body of her husband, her face unearthly, with its eyes so wide set, as if they'd drifted with time apart from the bridge of her nose. The cheeks and forehead were flat planes, sculpted from a pale stone it seemed, chill to the touch. It was a face distorted, made unnatural by the entanglement of her ties to the past, a fishing line caught and twisted beyond saving." - The Loudest Sound and Nothing, p. 134Short stories are part tightrope act, part haiku. Within the span of a scant few pages, an author has to be able to leave a lasting impression upon the reader. No mistakes can be made, no words should be wasted, and the total must be more than the sum of its parts. The number of people who can pull this off is very small indeed. But Clare Wigfall does. And without a net.In its 230 pages, The Loudest Sound and Nothing comprises 17 stories, each as unique as they come. From a 19th century Paris under siege in "The Ocularist's Wife", passing through the 1930's on the Outer Hebrides in "The Numbers" and up to present day Britain, each story never fails to offer something new and keep you on your toes.Something which is part of Wigfall's writing style, and which is thankfully in ample use here, are ellipses, the omission of several key events, which leaves many conclusions about the nature of the story and its characters to be drawn by the reader. It's a tough balancing act, and it can sometimes backfire, but it's pulled off beautifully here. A husband's heinous crime is never revealed in "Night after Night", or an aunt's advice to her runaway pregnant niece in "Norway". Since you're left to fill in these blanks by yourself, the stories sometimes feel that much more personal because of it.Some are so stark as to be only 4 pages long ("A Return Ticket to Epsom" and "Free") but have none of their impact diminished by being so. If anything, these tiny snapshots of people's lives are all the more potent for their brief nature.Another point for Wigfall is the fact that she writes beautifully, and you're never short of wonderful prose that flows along like water, keeping you enthraled until you reach the end of the book. Which unfortunately comes surprisingly fast.In closing, this is probably the finest collection of short stories I've ever read.
Also by Clare Wigfall