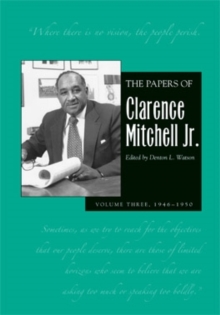 The Papers of Clarence Mitchell V 3 : 1946-1954
Hardback
Description
Born in Baltimore in 1911, the late Clarence Mitchell Jr., was a pivotal figure in the fight for civil rights in America.
He led the struggle for passage of the 1957 Civil Rights Act, the 1960 Civil Rights Act, the 1964 Civil Rights Act, the 1965 Voting Rights Act, and the 1968 Fair Housing Act. Volumes I and II of Mitchell's papers, part of a projected five-volume documentary edition, illuminate his work with the Fair Employment Practice Committee (FEPC).
Volume III documents the extent to which Mitchell, as labor secretary for the National Association for the Advancement of Colored People and then director of the NAACP's Washington Bureau, made his program for the creation of a permanent FEPC central to his quest for presidential leadership in civil rights. As a result of Mitchell's work in this period, President Truman in 1948 issued an order barring discrimination in federal employment and created a board to review discrimination complaints.
The Supreme Court's Brown v. Board of Education decision in 1954-a ruling that in effect said segregation and discrimination were one-cleared the path for Mitchell to intensify his fight for passage of civil rights laws that were grounded in the Equal Protection Clause of the Fourteenth Amendment. Volume III is an invaluable reference in tracing Mitchell's greatest contribution to the strengthening of American democracy by getting Congress, the courts, and the executive branch to join together in upholding the Constitutional rights of African Americans.
ABOUT THE EDITOR--- Denton L. Watson, formerly director of public relations for the National Association for the Advancement of Colored People, is associate professor at SUNY College at Old Westbury and project director and editor of The Papers of Clarence Mitchell, Jr.
He is author of Lion in the Lobby, Clarence Mitchell, Jr.'s Struggle for the Passage of Civil Rights Laws.
Information
Format: Hardback
Pages: 476 pages
Publisher: Ohio University Press
Publication Date: 15/12/2006
Category: History of the Americas
ISBN: 9780821416624
Free Home Delivery
on all orders
Pick up orders
from local bookshops