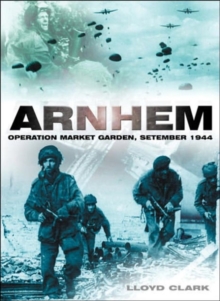 Description
Operation "Market Garden" was the largest airborne operation in history and its aim was to end the war in Europe by Christmas 1944.
On 17 September, 20,000 men were dropped behind enemy lines to seize a number of vital Rhine bridges in the Netherlands over which the British Second Army would advance.
But they had underestimated what the enemy was still capable of achieving, and their advance was blocked by two resolute German SS Panzer divisions.
Reinforcement soldiers coming by land had been delayed by stiff German resistance and bad weather, and were eventually prevented from reaching Arnhem.
This resulted in 6000 British paratroopers being taken prisoner.
The two US airborne divisions who also held their ground suffered 35000 casualties. "Market Garden" was an utter defeat for the Allies. Lloyd Clark gives a chronological overview of the operation, from its initial conception through to the end of the battle.
He emphasizes both parts of the operation from the air and on the ground, as well as the participation from all parties involved - Britain, America and Poland fighting for the Allies, and also the actions of the German defenders.
Information
Format: Hardback
Pages: 256 pages, 150 b&w and 50 colour illustrations
Publisher: The History Press Ltd
Publication Date: 21/11/2002
Category: British & Irish history
ISBN: 9780750928359