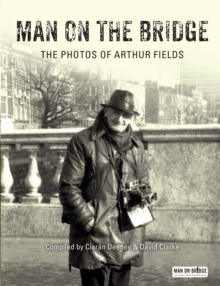 Man on the Bridge
Paperback / softback
Description
Arthur Fields, Dublin-born of Ukrainian emigrants fleeing anti-semitism, was a street photographer who stood on O'Connell Bridge for fifty years taking photos.
He worked every day from the 1930s until 1985 aged eighty-four.
Unknowingly, he became the unofficial family photographer of a city, having taken a estimated 182,500 photos of passers-by.
When cameras were not within reach of normal people, Arthur provided a vital service taking photos of couples on first dates, people up in Dublin for a day, happy parents with newborn children, match-goers, and many more.
These cherished photos form the basis of this collection.
Each photo was submitted by its owner with a story and caption explaining the background.
The photos bear witness to a changing cityscape, fashion, lifestyle, social habits and even camera technology.
In terms of subjects, Arthur didn't just photograph everyday people but also famous celebrities, African princes, street characters and even future stars, such as a seven-year-old George Harrison, with his mother.
The result is a window to an era when times were so different and photographs were taken to be cherished.This is a uniquely crowd-sourced publication, the culmination of the Man on Bridge project, a national photo collection campaign.
Information
Format: Paperback / softback
Pages: 240 pages
Publisher: The Collins Press
Publication Date: 11/05/2015
Category: Individual photographers
ISBN: 9781848892453