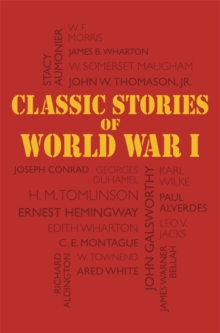 Classic Stories of World War I : Tales of the Great War's Most Heroic and Harrowing Experiences
Paperback / softback
Description
Published to mark the 100th anniversary of the end of The Great War, Classic Stories of World War I is a compilation of fiction and non-fiction excerpts from the works of world-class authors - such as Joseph Conrad and W.
Somerset Maugham - who lived through the conflict. From the home front to the western front, on land or at sea, this collection is a unique insight into the 'war to end war.' Contents: JOSEPH CONRAD, The Tale W.
SOMERSET MAUGHAM, The Traitor (from Ashenden) ERNEST HEMINGWAY, In Another Country (from Men Without Women) EDITH WHARTON, Coming Home STACY AUMONIER, Them Others JOHN W.
THOMASON, JR, War Dog GEORGES DUHAMEL, Rechoussat's Christmas (from Civilisation) H.
M. THOMLINSON, Armistice (from Waiting for Daylight) C.
E. MONTAGUE, Honours Easy (from Fiery Particles) RICHARD ALDINGTON, Introduction to the Trenches (from Death of a Hero) JOHN GALSWORTHY, Defeat (from Six Short Plays) PAUL ALVERDES, The Man in the Next Bed (from The Next Man) LEO V.
JACKS, One Hundred Per Cent KARL WILKE, Marie-Luise H.
M. TOMLINSON, A Raid Night (from Waiting for Daylight) JAMES WARNER BELLAH, Fear JAMES B.
WHARTON, Among the Trumpets W. TOWNEND, No Quarter W. F. MORRIS, Souvenirs ARED WHITE, The Watch on the Rhine
Information
Format:Paperback / softback
Pages:256 pages
Publisher:Octopus Publishing Group
Publication Date:04/10/2018
Category:
ISBN:9780753733080