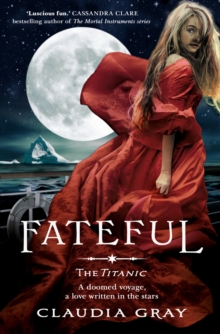 Description
A tragic tale of falling in love aboard the Titanic as heroine, Tess, discovers darker secrets lying beneath the doomed crossing... and a hidden brotherhood threatens to tear her lover from her forever.The RMS Titanic is the most luxurious ship ever built, but for eighteen-year-old Tess Davies it's a prison.
Travelling as a maid for the family she has served for years, Tess is trapped in their employ amid painful memories and family secrets.When she meets Alec, a handsome upper class passenger, Tess falls helplessly in love.
But Alec has secrets of his own... and soon Tess is entangled in a dangerous game. A sinister brotherhood that will do anything to induct Alec into their mystical order has followed him onboard. And Tess is now their most powerful pawn.Tess and Alec fight the dark forces threatening to tear them apart, never realising that they will have to face an even greater peril before the journey is over...New York Times best-selling author Claudia Gray delivers adventure, dark paranormal suspense, alluring romance, and a truly surprise ending, set against the opulent backdrop of the Titanic's first - and last - voyage.
Information
Format: Paperback
Pages: 336 pages
Publisher: HarperCollins Publishers
Publication Date: 01/03/2012
Category: Romance
ISBN: 9780007428267
Free Home Delivery
on all orders
Pick up orders
from local bookshops
Reviews
Showing 1 - 4 of 4 reviews.
Review by BookishBrunette
16/06/2015
WEREWOLVES? On the TITANIC??? Epic win!Tess and Alec... no matter which way I look at it, or turn it around in my head- their relationship never felt REAL to me! I was never convinced of either of their feelings for the other. They fall "in love" like *BAM*, after a series of less than pleasant meetings and there is nothing supporting it!Their relationship does become more plausible as the book continues, but only because we're more invested in the story and the characters! There was still never any real basis for WHY she was suddenly so in love with him.The several subplots in Fateful were VERY well done, and very, very exciting! The noble family of Lisle... PENNILESS! Their son and heir impregnating a lowly servant girl, and letting his parents cast her out to starve! Their meek and timid, but kind daughter in love with someone she can never have... These were FLAWLESS and I loved every second of them!George and Myriam... I'd have LOVED to hear more about them!!! George is an officer on the ship and Myriam is a third class passenger, their insta-love connection NEVER felt forced! It was sweet, romantic and as simple as "hello". *sigh*You know... it's not like I didn't KNOW how this story would end. Obviously, the Titanic sinks... it's still terribly tragic! Gray does a beautiful job of recreating these terrifying and heartbreakingly sad moments,"As I look past him and realize there are no more lifeboats close by, I wonder if we've found each other too late.""Won't you tell Myriam- I'm sorry not to have had more time with her." -George (my poor, sweet George)"When she takes my hand, I know it's all been real- all of it- and the horror is even more powerful than the fact that I've survived." -TessI had finally been completely won over by this story- I'm talking 4.5 stars, only knocking the .5 because of my initial reservations toward Alec and Tess.When I got to the very last few pages, I was completely disappointed! My heart was breaking into 1000 pieces (which is good... I'm feeling EMOTION for Tess, finally!) and NO, I'm NOT going to tell you how it ends!I have NO doubt in my mind that a lot of people will probably love this ending- I, on the other hand was not a fan. So after much deliberation... 4 STARS!• • • • • • • • •And HOW freaking gorgeous is the new cover?! I absolutely LOVE it, the crimson dress she wore the day her and Alec had their date... her BLONDE hair (I wondered who the brunette chick was on the other cover!), the ice, the moon... everything is perfect! I loved the other one, but this cover is FAR more suited to the book!
Review by Bduke
16/06/2015
Werewolves on the Titanic? Sounds a little weird, but then I swore up and down I would never read a book about vampires (Twilight), either, and I loved that. So, as weird as it sounds, it was actually quite good. Or at least I mildly enjoyed it.
Review by ShouldIReadIt
16/06/2015
Excellent! The paranormal romance of werewolf vs. human is lively enough in itself, but when those are added to the details of the Titanic and its sinking, you get an abundance of romance, suspense and sense of impending doom. Reliving the scenes where the Titanic meets its doom is sure to make even the most jaded reader choke up with emotion.
Review by ChristineEllei
27/08/2015
It is April of 1912 and Tess has been in service to the Lisles for most of her life. Due to their diminishing financial circumstances the Lisles undertake an overseas voyage to America to hopefully arrange a profitable marriage for the daughter. Tess decides that her meager savings would be well spent leaving the employ of this overbearing family and starting out on her own in this new country. Unfortunately, someone is after her and she does not know why or what it is they want until one fateful night she is accosted in the streets of London by a wolf and saved by a mysterious young man. Of course, seeing this young man again on the ship is a strange coincidence indeed. Is her life now truly in the hands of fate? Sailing on the Titanic with two werewolves certainly cannot bode well.<br/><br/>This was a fun read. A little bit of a different take on the werewolf theme, but totally plausible if you are willing to entertain the existence of paranormal creatures. As the reader I felt making the ill-fated ocean liner the setting for the book was brilliant. I knew the iceberg was coming along and it kept me turning the pages even when the story was working through parts that were a little slow. Well-done Ms. Gray.<br/>