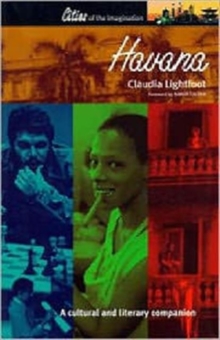 Havana : A Cultural and Literary Companion
Paperback
Description
A cultural companion guide to Havana in the 'Cities of the Imagination' series.
From its humble birth as a few thatched huts along the shoreline, Havana has emerged from five hundred years of turbulent history as the most fascinating city in the Caribbean.
Spain's "Pearl of the Antilles" was in turn plundered by pirates, invaded by foreign fleets and then turned into a Mafia-run playground under US tutelage.
Since 1959 the seat of Fidel Castro's revolutionary regime, Havana is now shaking off forty years of blockade to face the new challenges of mass tourism.
A city whose fabric has always been threatened by hurricanes and political upheaval, Havana has developed a wild edge, an energy and an alluring exoticism that have intrigued and enchanted visitors as diverse as Alexander von Humboldt, Anais Nin, Lorca and Sartre.
Claudia Lightfoot explores Havana's history and its paradoxes: a city where architectural treasures survive among crumbling tenements; where a vibrant street life takes place amid shortages; where revolutionary politics, machismo and a thriving black market coexist against a background of salsa, griteria and baseball. * The city of architecture: fortresses, mansions and Art Deco exuberance; baroque facades and balconies; an eclectic cityscape. * The city of politics and exile: the colonial and neo-colonial years; wars, dictators and revolution; Jose Marti and Che Guevara; the diaspora and the dream of Miami. * The city of literature, art and music: Carpentier, Lezama Lima and Cabrera Infante; passion and irony; Graham Greene and Hemingway; Wilfredo Lam and Nelson Dominguez; Afro-Cuban roots; salsa,
Information
Format: Paperback
Pages: 256 pages, maps, photos, index, bibliog
Publisher: Signal Books Ltd
Publication Date: 01/09/2001
Category: Travel & holiday guides
ISBN: 9781902669335
Free Home Delivery
on all orders
Pick up orders
from local bookshops
Also in the Cities of the Imagination series | View all