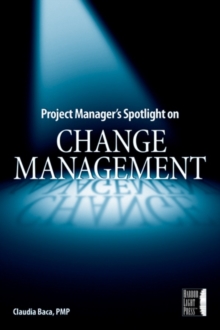 Project Manager's Spotlight on Change Management
Paperback / softback
Description
This book presents clear-cut ways to manage inevitable project changes.
If you're a typical project manager, you're probably aware of the importance of change management but may not have the time or expertise to develop a full-blown plan.
Here's a quick and practical guide to applying the disciplines of proven change management practices without the rigor of complex processes.
Part of the "Project Manager's Spotlight" series from Harbor Light Press, this straightforward book offers solutions to real-life project change scenarios.
Author Claudia Baca highlights critical components of change control and equips you with tools, techniques, checklists, and templates you can put to use immediately.By following a realistic case study from start to finish, you'll see how a project manager deals with each concept.
Ultimately, this book will help you establish effective guidelines for dealing with change and provide you the flexibility to minimize disruptions and derailments. "Project Manager's Spotlight on Change Management" teaches you how to: define roles and responsibilities of the change management team; build a process flow one step at a time; design your own change management system; process exceptions and escalations; and create the necessary documentation.
Information
Format: Paperback / softback
Pages: 146 pages
Publisher: John Wiley & Sons Inc
Publication Date: 05/04/2005
Category: Project management
ISBN: 9780782144109