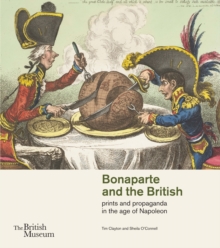 Bonaparte and the British : prints and propaganda in the age of Napoleon
Paperback / softback
Description
Not only was Waterloo one of the most decisive battles ever fought, was also a crucial event in European political and social history, ending over 20 years of conflict and bringing to his knees one of Europe's most extraordinary and challenging figures - Napoleon Bonaparte.
This intriguing book show s t hrough contemporary prints h ow Bonaparte was seen from across the English Channel where hostile propaganda was tempered by admiration for his military and administrative talents.
Featuring works from the British Museum's world - renowned collection of political satires, including examples by the greatest masters of the genre , James Gillray, Thomas Rowlandson and George Cruikshank , the authors examine in detail the se fascinating and humorous prints .
French satires showing the British in relation to Bonaparte are also i ncluded alongs ide portrait s of Bonaparte and his family made for the British market.
A ttitudes to Bonaparte were coloured by political tensions in Britain a s highlighted in satires of Charles James Fox, Richard Brinsley Sheridan, Lord Holland and other radicals.
French, German, Russian and Spanish copies of Brit ish prints demonstrate the wide dissemination of prints and the admiration of continental artists for Brit ish satirists.
From portraits of the handsome young gen eral to the resplendent Emperor to the cast of his death mask, this book explores crucial events of Bonaparte's career and the period including: Nelson's triumph in the battle of the Nile in 1798 ; the 14 months of peace after the Treaty of Amiens in March 1802 when British tourists flocked to Paris; the invasion scare of 1803 that generated much bravado in propagandist prints; the death of Nelson at the moment of victory at Trafalgar in 1805; the Russian campaign of 1812 followed by other military defeats d uring 1813, culminating in Napoleon's exile to Elba in 1814; his `100 days' in power in 1815, followed by Waterloo and exile to St Helena.
Bonaparte and the British reveals the stories behind the prints, explaining how satire was used as propaganda and h ow the artists worked.
With stunning illustrations showing the intricately detailed prints in full colour this book brings to life a key period i n European history.
Information
Format: Paperback / softback
Pages: 256 pages, Illustrated in colour throughout; 200 Illustrations, color
Publisher: British Museum Press
Publication Date: 15/02/2015
Category: Prints & printmaking
ISBN: 9780714126937
Free Home Delivery
on all orders
Pick up orders
from local bookshops