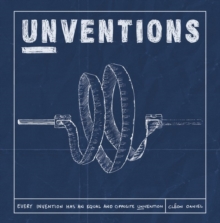 Unventions : Evert Invention has an Equal and Oppostive Unvention
Hardback
Description
So what is an unvention? Some say unventions are simply everyday objects that are familiar to all.
They are correct. But they are also wrong. Unventions tell new stories about the things around you releasing them from the mundane trudge of daily routine to take on epic new roles.
When you begin to see them you are set free, and soon you will discover your own.
Unventions will change your world forever.* *Largely in utterly useless ways
Free Home Delivery
on all orders
Pick up orders
from local bookshops