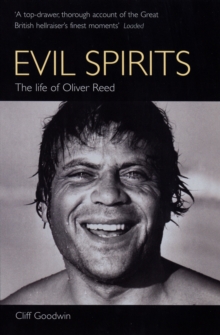 Evil Spirits : The Life of Oliver Reed
Paperback
Description
In May 1999, after a 40-year career including 100 films, Oliver Reed died, as he had invariably lived, drinking with friends while making a film - his well-reviewed performance in the blockbuster Gladiator.
Having risen through Hammer Horror films to international stardom as Bill Sykes in Oliver!, Reed became, in his own works, 'the biggest star this country has got'.
With his legendary off-screen exploits and blunt opinions - especially of his co-stars - he was also one of the most infamous. Bestselling author Cliff Goodwin uses material from first-hand interviews with Reed's family, friends and colleagues and never before seen photographs to explore Reed's eventful career.
But he also reveals another side to this unique and complex man.
Information
Format: Paperback
Pages: 336 pages
Publisher: Ebury Publishing
Publication Date: 05/07/2001
Category: Films, cinema
ISBN: 9780753505199
Free Home Delivery
on all orders
Pick up orders
from local bookshops
Reviews
Showing 1 - 2 of 2 reviews.
Review by mstrust
16/06/2015
Hard to put down. Goodwin is obviously a fan of Reed's and writes an entertaining and thorough biography of "Mr. England" from interviews with Ollie's friends, co-workers, drinking buddies, children and his widow. While Reed's reputation as a drunken womanizer is well-documented here, his empathy towards animals is surprising, as is the fact that Reed was actually a descendant of Peter the Great.Goodwin gives equal time to the good and the bad in Reed's personality. Reed could cheat on his wife, attack police officers, expose himself in public- but also come to the aid of strangers who's baby needed medical help.Reed used his celebrity to every advantage, and one has to wonder why, as a 42 year-old man, he wasn't arrested for carrying on an open affair with a 16 year-old girl. It seems that all of England was so enchanted by him that Reed could do no wrong.I do recommend this book. Love him or hate him, Reed was full of life and always interesting.
Review by DanaJean
16/06/2015
I became interested in this book after reading a review here on librarything. (Thank you mstrust). I found the story slow going at first as Goodwin laid the groundwork of Reed's childhood. Although interesting, a bit textbooky and tedious. Dyslexic and labeled as dumb, Oliver found what he was good at--drinking, picking up beautiful women, hanging out with the guys, being a thug and rapscallion. The story started getting interesting when we see the man and the actor combine to form a blurred image. Sometimes playing a part, even in public as certain behavior is what people expected of him. Always a bit on the edge of acceptable--more often than not, clear off the edge, Reed was almost a caricature of himself. One of his favorite things to do was exposing his frank and beans. Mostly the frank. It was not unheard of for Oliver to whip his penis out to proudly show is talon-ed tattooed tallywhacker. His legendary boozing was definitely impressive in a sad sort of way; destroying pubs, restaurants and friendships in his wake, yet accepting responsibility 100%. His attitude towards women was more disappointing. Always known for his womanizing, he had a hate there for a strong woman who would challenge his masculinity or his opinions. He felt a woman was there for him to use and abuse, cook, clean, sex him up and shut up. He had 2 long term relationships; a marriage and longtime live-in girlfriend, before he found his last love well into his 40's in a 16-year-old girl. Oliver was smitten and would make sure he was out on the streets so he could wave at her as her school bus went by. I think he felt very safe with this child/woman in that she didn't challenge him in anyway. He molded her into what he wanted a woman to be. He had to be in control. I did find his sensitivity to animals and people in need quite endearing. He was the first to help and I think he felt the most normal with his animals. It wasn't above him to socialize with the hotel staff, often helping in the kitchen or behind the bar. He was a hard worker when focused and made sure to never treat someone different because of class position. Everyone was equal in his eyes. (except women.) A very odd and interesting guy to the very end. Oliver was his own worst enemy and I'm not sure he ever really enjoyed his life. I think all the crazy shenanigans were done so he could feel something besides normal which, in his mind, equaled boredom.