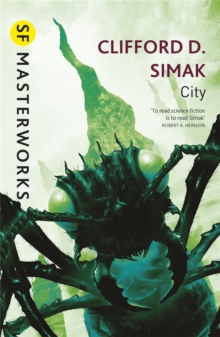 Description
On a far future Earth, mankind's achievements are immense: artificially intelligent robots, genetically uplifted animals, interplanetary travel, genetic modification of the human form itself.But nothing comes without a cost.
Humanity is tired, its vigour all but gone. Society is breaking down into smaller communities, dispersing into the countryside and abandoning the great cities of the world.
As the human race dwindles and declines, which of its great creations will inherit the Earth? And which will claim the stars?
Information
Format: Paperback
Pages: 272 pages
Publisher: Orion Publishing Co
Publication Date: 01/06/2011
Category: Science fiction
ISBN: 9780575105232
Free Home Delivery
on all orders
Pick up orders
from local bookshops
Reviews
Showing 1 - 1 of 1 reviews.
Review by shanaqui
16/06/2015
I really wouldn't attempt to read City as speculative fiction, despite the opening stories and the fact that there's space travel and alternate dimensions. After I saw the reactions of group members to it, I thought I wasn't going to get on with it at all -- totally unscientific, only one or two female characters even <I>mentioned</I>, etc.<br/><br/>But then I started reading and the scholarly notes really tickled me. I've read them before, in a sense, in every book that attempts to piece together whether King Arthur (or any other mythical/legendary figure) really existed. I managed to read it then as a myth, as a cleverly constructed series of stories creating a myth-that-might-have-been. Almost a fable (which came to me when the notes made a reference to Aesop). It's a fable of what could happen if we took men out of the equation, and links up with The Book of Merlyn which I reread only last night -- is there something inherent in men that makes us act the way we do? <br/><br/>(It and T.H. White's Arthurian stories weren't written that far apart in time. Is it too late for me to write a dissertation on the preoccupations of those decades and take City and The Once and Future King as my primary texts? I'm sure there are others. It's probably been done, though. Striking that they both used ants and dogs, though probably coincidence -- we have very firm ideas of what ants and dogs are like, what they do, and I think they both used a common image.)<br/><br/>Anyway, it's not a gripping story with a narrative that pushes you forward. I read it with more a gentle curiosity, and it responds well to that.
Also in the S.F. Masterworks series | View all