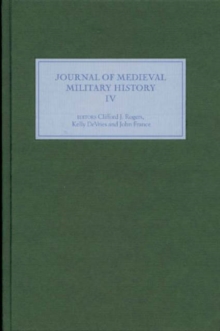 Journal of Medieval Military History - Volume IV
Hardback
Description
The essays in this latest edition of the Journal, by leading experts in the field, are a witness to the flourishing state of the subject, and provide significant contributions to various important on-going debates and controversies.
They include wide-ranging discussions of state formation and the role of women in medieval warfare, and an energetic argument against viewing medieval warfare as cavalry-dominated.
A trio of articles dealing with issues of bravery and cowardice, though based on Anglo-Saxon and Anglo-Norman evidence, advance our knowledge of one of the all-pervasive aspects of the military history of the middle ages.
Similarly, an experimentally-based study of the effectiveness of arrows against mail armor reaches conclusions that will cast light on combat from Visigothic Spain to Crusader Outremer to fifteenth-century Bohemia.
In addition, the Journal includes in-depth studies of Iberian war-dogs, the naval battle of Zierikzee at the start of the fourteenth century, and [reflecting the editors' broad understanding of the scope of the field] the war-related activities of Dutch magistrates at the turn of the sixteenth century. Contributors: STEPHEN MORILLO, BERNARD S. BACHRACH, RUSS MITCHELL, RICHARD ABELS, STEVEN ISAAC, WILLIAM SAYERS, JAMES P.
WARD, J. F. VERBRUGGEN, ROBERT BURNS
Information
Format: Hardback
Pages: 184 pages
Publisher: Boydell & Brewer Ltd
Publication Date: 21/09/2006
Category: European history
ISBN: 9781843832676
Free Home Delivery
on all orders
Pick up orders
from local bookshops