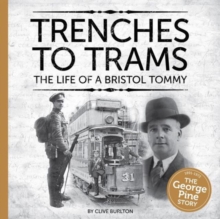 Trenches to Trams: The George Pine Story : The Life of a Bristol Tommy
Paperback / softback
Description
Think of a traditional Father Christmas; take away the beard so that you can see a beaming smile and a pair of glasses; remove the hat to reveal a slightly balding head; and replace the tunic to display a cardigan, always buttoned.
Now you have a picture of how my grandfather, George Pine, appeared to me as a child. George was not a well-educated man, few of his generation were, but he had the most incredible memory and could tell a wonderful, gripping story.
He could remember 50 or 60 years ago as if it were yesterday.
Later on in life George lived at a residential home in Southmead, Bristol.
The whole Pine family used to visit him as often as we could, including me and my wife Fran.
He would then suspend his self-appointed role of organising all the residents (a legacy of his Sergeant Major training) and after a little prompting, sit down to retell some of his stories, still wearing a cardigan with buttons up the front.
We thought that these stories were so interesting that in early 1972 we asked him to write them down.
What follows are the memories that George recorded. The account you can now read probably contains less than half of the details that George could remember. Fran and I were hoping to read his account and visit him to record any missing details, but he wanted to finish the whole story before we read it.
Unfortunately, he never did quite finish. George might not have had academic qualifications but he had qualities of which I am tremendously proud and which he passed on to his children.
These qualities were resourcefulness, a fierce determination to always do your best, perseverance despite the difficulties and a deep loyalty to, and love of, family. I am very grateful to my brother-in-law, who has demonstrated these same qualities in expanding on over 40,000 words of George's handwritten memories.
Clive has worked tirelessly, following up every conceivable lead, filling in many gaps and expanding upon George's recollections.
He has trawled through thousands of photographs and documents, delved in numerous public and private archives in the UK and abroad and visited France and Belgium, with friends and family, to follow George's story.
I recall one such visit to France. On one page in George's handwritten account he drew a map of the German and British front lines. We were astonished to find that the map was uncannily accurate with the buildings and general terrain still there some 90 years later.
I am sure this was just one of the discoveries that led Clive to spend so much time in researching and producing Trenches to Trams.
He has transformed George's handwritten pages from a family history to something much broader; touching on the First World War, Bristol Tramways & Carriage Company, Bristol in the Second World War and a slice of Bristol Social history from the 19th and 20th Centuries.
The heart of George's story is that of an ordinary Bristol Tommy who showed great courage, bravery and pluck in extraordinary times.
Being the modest man he was, he would wish the readers of Trenches to Trams to consider it as a tribute to his generation and to a remarkable group of people - his comrades and colleagues - whose stories of heroism and sacrifice may never be told.
John Pine
Information
Format: Paperback / softback
Pages: 224 pages, World War 1 and other archive photographs and illustrations
Publisher: Tangent Books
Publication Date: 01/07/2011
ISBN: 9781906477462
Free Home Delivery
on all orders
Pick up orders
from local bookshops