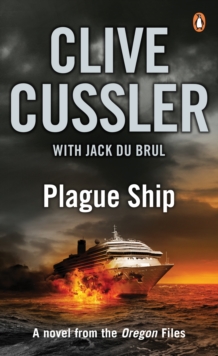 Plague Ship : Oregon Files #5
Paperback
Description
Clive Cussler's fifth Oregon Files novel, Plague Ship, pits Juan Cabrillo against a deadly adversary.
In a Norwegian glacier during World War Two a Nazi officer makes an extraordinary discovery - the most legendary ship of all time . . .Sixty years later Juan Cabrillo and the crew of the Oregon - a top secret state of the art military vessel disguised as a heap of junk - reap the terrible rewards of this find.
In the Persian Gulf they encounter a cruise ship full of the dead and the dying.
While attempting a rescue, the stricken liner erupts into a fireball.
Cabrillo escapes with his life, and one survivor.When Cabrillo decides to probe deeper into this mystery, he finds a powerful cult obsessed with the end of the world.
It is a discovery that sees the Oregon and her crew racing against time to prevent a sinister madman from using the secrets of the past to to destroy the future . . . Plague Ship is a high-stakes, high-seas adventure you won't be able to put down.
The number-one bestseller Clive Cussler, author of the thrilling Dirk Pitt novels Arctic Drift andValhalla Rising, and co-author Jack Du Brul are back with their most exciting Juan Cabrillo assignment yet in the fifth novel of adventure series The Oregon Files, Plague Ship.
Praise for Clive Cussler: 'Cussler is hard to beat' Daily Mail'The guy I read' Tom ClancyBestselling author Clive Cussler has kept millions of readers hooked with adventures at sea, exotic locations, cutting-edge science and page-turning pace for four decades.
As well as the Oregon Files series there are also the NUMA Files, the Dirk Pitt stories (which started it all), the Isaac Bell adventures and the Fargo series..
The other titles in the Oregon Files are: Golden Buddha, Sacred Stone, Dark Watch, Skeleton Coast, Corsair, The Silent Sea and The Jungle and are all available in Penguin paperback.
Information
Format: Paperback
Pages: 640 pages
Publisher: Penguin Books Ltd
Publication Date: 01/06/2009
Category: Adventure
ISBN: 9780141033198
Other Formats
EPUB from £3.99
Paperback from £7.09
Free Home Delivery
on all orders
Pick up orders
from local bookshops
Reviews
Showing 1 - 2 of 2 reviews.
Review by readingwithtea
16/06/2015
Summary: Juan Cabrillo is busy skippering the Oregon around the Middle East, dishing out his own, CIA-sanctioned form of justice with his elite hit squad, when they happen across a ship apparently ravaged by a fast-acting virus. When his right-hand-man's son is kidnapped, Juan won't stop at anything to get him back... and he wants to know what happened on that ghost ship.This, like The Navigator, was lots of fluffy, suspended-disbelief fun. The fact that almost all the action took place on a ship was very educational for me (while I know you can't take any facts for granted in these types of books, Cussler seems to know his way around a boat), and I enjoyed the stop-offs in the Philippines, Iran, Monaco... in fact the ship setting meant that we weren't flying around everywhere at a moment's notice - definitely a positive change.One of the aspects of Cussler's writing that I really enjoy is that the minor characters in the good team get more development than I think they would in another author's efforts. I enjoyed knowing a bit more about the weapons expert, the doctor, even the chef/butler, rather than having all the character development be of the leader.Philosophically this book gave me a bit to think about too - the idea behind it is that there is a society/group/movement attempting to artificially limit human reproductive capabilities on a huge scale, through the argument that population explosion is limiting development and overconsuming resources. I'm not sure what I think about the population explosion theory, but I know exactly what I think about people playing God, and I was intrigued that Cussler chose to take on a moral issue as his "the world is at threat" plot device. Good on him.I have one more Cussler in my bookshelf and I might just be going on a little Cussler-binge the next time I'm at the Lancaster book market!
Review by kimmy0ne
16/06/2015
Also in the The Oregon Files series | View all