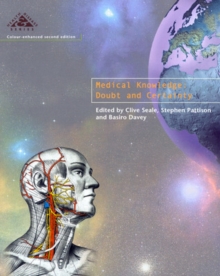 Medical Knowledge 2/E
Paperback / softback
Description
Treatments and practices derived from scientific medical knowledge have directly benefited most people presently living in the Western world.
But this 'orthodox' knowledge is not the only, nor even the major, source of wisdom about health and disease.
Elsewhere, scientific medicine is frequently subordinate to traditional medical practices.
In Western cultures, people who consult a doctor do so for only a minority of their complaints and many alternative therapies thrive.
We all have lay knowledge of health and disease which we use every day.
Why then do we hold scientific medical knowledge in such esteem that it lies at the heart of health-care systems?In this book, medical knowledge comes under scrutiny from an interdisciplinary team of authors that includes sociologists, historians, epidemiologists and human biologists.
They begin by examining modern culture and the coexistence of lay beliefs, alternative and complementary therapies, and orthodox scientific views of health and disease.
The historical development of medical knowledge is traced in three case studies: on tuberculosis, blood, and hysteria.
This journey into the past reveals the profound changes that have taken place in medical knowledge and practice, but also illuminates the rich heritage that has survived in modern medicine.
The book concludes by examining the influence of social and cultural factors on the theory and practice of medicine today, the place of ritual, medicine as a mechanism of social control, and factors affecting trust and communication in the relationship between doctor and patient.
In so doing, it questions the taken-for-granted status of scientific medical knowledge in Western society.
Information
Format:Paperback / softback
Pages:216 pages, references, index
Publisher:Open University Press
Publication Date:16/03/2001
Category:
ISBN:9780335208340