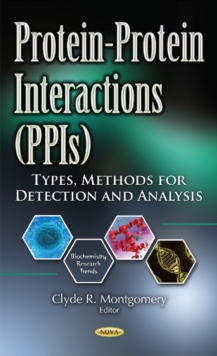 Protein-Protein Interactions (PPIs) : Types, Methods for Detection & Analysis
Paperback / softback
Description
Protein-protein interactions (PPIs) play an important role in vital biological processes such as metabolic and signaling pathways, cell cycle control, and DNA replication and transcription. This book discusses types, methods for detection and the analysis of PPIs.
Chapter One describes two key nuclear magnetic resonance (NMR) methods for the investigation of protein-protein interactions, chemical shift perturbation, and residual dipolar coupling, with practical tips on the preparation of samples, NMR measurement, and analysis.
Chapter Two describes the basic principles and provides a practical description of the recent technological developments in solution NMR spectroscopy for examining protein-protein interactions.
Chapter Three focuses on identifying PPIs via many learning methods based on protein sequence information.
Chapter Four examines the thermodynamics of PPIs by isothermal titration calorimetry.
Chapter Five describes the general microscopic features of amyloid fibril structures and then discusses the macroscopic properties of protein aggregate with conformations such as packing, hydration, and enthalpy using thermodynamic variables in combination with densitometry and isothermal titration calorimetry.
Chapter Six reviews the special case of protein self-association as a modulator of protein function.
Information
Format: Paperback / softback
Pages: 130 pages
Publisher: Nova Science Publishers Inc
Publication Date: 01/12/2016
Category: Proteins
ISBN: 9781634859707
Free Home Delivery
on all orders
Pick up orders
from local bookshops