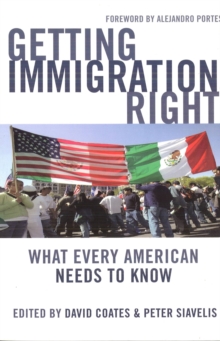 Getting Immigration Right : What Every American Needs to Know
Paperback / softback
Description
Getting Immigration Right focuses on what is arguably the most important aspect of the current immigration debate: how best to understand and resolve illegal immigration from Mexico.
The scale and character of illegal immigration is only one facet of the "immigration problem" currently before Congress and the president, but it is its most contentious and visible face.
It is also the one part of the contemporary immigration story that attracts the most intense opposition, the most widely disseminated mythologies, and the most powerfully advocated solutions.
What to do about illegal immigration from Mexico is a major political question of our time. The book's wide-ranging and timely discussion includes legal and non-Mexican immigration.
It sets the context of immigration before exploring the job experiences of illegal immigrants and their quest for the American dream.
The contributors then focus on the causes and consequences-economic and social-of immigration, both legal and otherwise, and vividly describe the Latino experiences of illegality, including crossing the border and living in fear of deportation.
In addition, the reform of immigration law is discussed from three distinct viewpoints: one conservative, one liberal, and one libertarian.
The volume closes with its editors'own proposals for comprehensive immigration reform.
With a foreword by Alejandro Portes, a professor of sociology at Princeton University and author of Immigrant America: A Portrait.
Free Home Delivery
on all orders
Pick up orders
from local bookshops