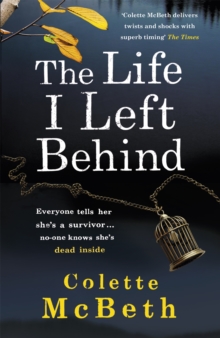 The Life I Left Behind
Paperback
Description
She's dead but she's the only one who knows what really happened; What your friends have said. What the police missed. Who attacked you. So if you want the truth who else are you going to turn to?
Information
Format: Paperback
Pages: 384 pages
Publisher: Headline Publishing Group
Publication Date: 01/01/2015
Category: Thriller / suspense
ISBN: 9781472205988
Other Formats
Paperback from £7.85
EPUB from £3.99
Free Home Delivery
on all orders
Pick up orders
from local bookshops
Reviews
Showing 1 - 3 of 3 reviews.
Review by nicx27
16/06/2015
Three women tell this story. Melody Pieterson was attacked and left for dead six years ago. Her attacker went to prison but has been released and now another woman, Eve Elliot, has been found dead holding a bird cage necklace, just like Melody. The third woman is DI Victoria Rutter, who was part of the team investigating Melody's attack and is now investigating Eve's murder.I thought this was a really well-plotted and engrossing psychological thriller. It's sort of a 'whodunnit' but it's not a crime solving novel, it's more about the emotional impact that a trauma can have on the mind. I enjoyed all the three voices and felt they all had their place. Eve is dead when the book begins, so she's talking from beyond the grave and that worked really well too, which was something I did wonder about. I kind of had an idea about the end but it still kept me partly guessing. I liked McBeth's writing immensely and will be looking out for her first novel, Precious Thing, along with future works. I had trouble putting this one down.
Review by BettyTaylor56
27/08/2015
Normally I have no problem with alternating points of view in a book. However, this one has three women telling the story. Sometimes the same woman did a couple of chapters consecutively. Since two of the women's stories are very similar it got difficult to keep track of who was "talking". Melody was attacked, supposedly by her friend David, several years ago and left for dead. David served time for this attack. Shortly after he is released from prison Eve, the second woman, is killed and she looks back from the grave to tell us her story. In her hand is a necklace identical to the one found in Melody's hand when she was attacked. Detective Inspector Rutter is working both Melody's attack and Eve's murder. The plot is interesting and suspenseful at times. But as mentioned above I did have difficulty keeping Eve and Melody's stories separated. If you can get past that you will probably enjoy it. Ms. McBeth goes into the emotional relationships of the characters. This is the real strength of her book. I would have given her a four rating if not for the pre-described difficulty.
Review by AdonisGuilfoyle
27/08/2015
A tangled murder mystery no less satisfying for the speed at which I unravelled the various threads. Two victims left for dead, with only a gold necklace linking them to their attacker - Melody, who survived, and Eve, who did not - and the suspect accused of hurting them both. Both women tell their story, along with DI Victoria Rutter, taking over her mentor's old case to uncover a series of fatal mistakes made by the police and the women themselves.I was gripped throughout, despite twigging the real killer early into the story by a process of elimination (not that mad bastard, the other one). Colette McBeth brings both the traumatised Melody, with her horrendously bad taste in men, and the posthumously persistent Eve to life (and death) with an eye for detail and characterisation. Before downloading my copy of the book, I read a low-rated review which criticised 'moaning Melody' and self-involved Eve, but both interpretations of the characters are unfair - Melody's neuroses are entirely understandable and deftly shaded, while Eve's biggest concern is not her family's heart-rending grief but Melody's future safety. Personally, I chose the story for the 'ghost' angle, which is subtle but sympathetically played, and then found myself hooked by the battle for justice and the underlying strength of both women. Loved the humour too. Definitely recommended, even if more of a 'why-dunnit' than a whodunnit.