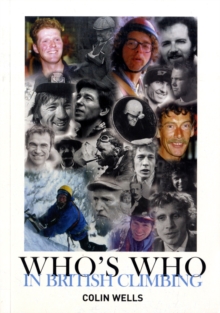 Who's Who in British Climbing
Paperback
Description
"Who's Who in British Climbing" contains nearly 700 mini biographies of climbers - the romantics, eccentrics and buffoons that have made British Climbing what it is: dissolute and hungover most of the time, with the odd unexpected burst of brilliance.They form a world class cast of eccentrics ranging from the most virtuous to the most hedonistically barbarous characters one could ever hope to meet.
At one end of the moral spectrum we have Archdeacon Hudson Stuck solemnly tutoring his native charges on ecclesiastical history while making the first ascent of Denali.
At the other there's Satan-loving Aleister Crowley pleasuring himself in his tent on Kangchenjunga while his helpless avalanched companions were crying for help a few yards away.
In between are the usual sprinkling of psychotic nut jobs, consummate show-offs and infuriatingly brilliant athletes.The selection of folk gracing the pages has been anything but scientifically objective.
The intention has been to include anyone who was born in Britain who happened to do something significant or interesting anywhere, not just in the UK.
Free Home Delivery
on all orders
Pick up orders
from local bookshops