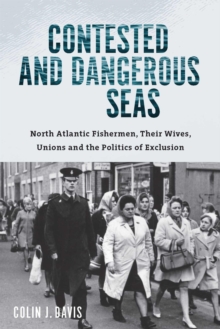 Contested and Dangerous Seas : North Atlantic Fishermen, Their Wives, Unions, and the Politics of Exclusion
Paperback / softback
Description
Deep-sea fishing has always been a hazardous occupation, with crews facing gale-force winds, huge waves and swells, and unrelenting rain and snow.
For those New England and British fishermen whose voyages took them hundreds of miles from the coastline, life was punctuated by strenuous work, grave danger, and frequent fear.
Unsurprisingly, every fishing port across the world has memorials to those lost at sea. During the 1960s and 1970s, these seafaring workers experienced new hardships.
As modern fleets from many nations intensified their hunt for fish, they found themselves in increasing competition for disappearing prey.
Colin J. Davis details the unfolding drama as New England and British fishermen and their wives, partners, and families reacted to this competition.
Rather than acting as bystanders to these crises, the men and women chronicled in Contested and Dangerous Seas became fierce advocates for the health of the Atlantic Ocean fisheries and for their families' livelihoods.
Information
Format: Paperback / softback
Pages: 200 pages, 16 tables
Publisher: University of Massachusetts Press
Publication Date: 30/11/2019
Category: History of the Americas
ISBN: 9781625344366