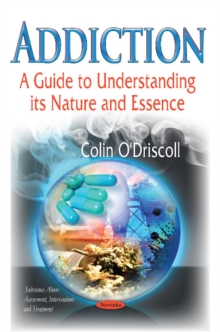 Addiction : A Guide to Understanding its Nature & Essence
Paperback / softback
Description
What is available in accessible literature terms is very limited.
The information that tends to be provided to those affected by addiction is often dated, includes over labelling and is based more on tradition than on sound evidence.
What we know now about the nature of addiction is much more developed and this information is not very accessible to the general public.
This book is produced to address this lack of information (or indeed misinformation) and also to be of help for the many families that struggle with addiction of one kind or another.
It is also an attempt to bring a greater and more accurate insight into the nature of addiction so as to help to guide people through this issue that often reaches epidemic proportions.
Grandiose as this may sound, it is a small attempt to at least make this information available.
So that hopefully, if somebody wants to find it, it is generally accessible.
Additionally this is also aimed at health care professionals to give a more core perspective on the nature of addiction.
Most literature on addiction tends to be married exclusively to one school of thought or another.
It can be very difficult to think outside of a framework that has been taught, or outside of a professional context.
This book is an attempt to depart from that and provide a fresh look and perspective on this phenomenon.
Free Home Delivery
on all orders
Pick up orders
from local bookshops