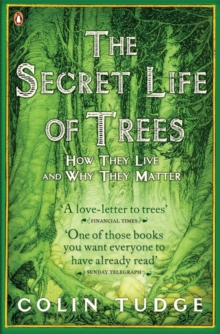 The Secret Life of Trees : How They Live and Why They Matter
Paperback
Description
Colin Tudge's The Secret Life of Trees: How they Live and Why they Matter explores the hidden role of trees in our everyday lives - and how our future survival depends on them.
What is a tree? As this celebration of the trees shows, they are our countryside; our ancestors descended from them; they gave us air to breathe.
Yet while the stories of trees are as plentiful as leaves in a forest, they are rarely told.
Here, Colin Tudge travels from his own back garden round the world to explore the beauty, variety and ingenuity of trees everywhere: from how they live so long to how they talk to each other and why they came to exist in the first place.
Lyrical and evocative, this book will make everyone fall in love with the trees around them. 'A love-letter to trees' Financial Times 'One of those books you want everyone to have already read' Sunday Telegraph 'Wonderful, invaluable and timely.
Tudge is as illuminating a guide as one could wish for' Daily Mail 'Everyone interested in the natural world will enjoy The Secret Life of Trees. I found myself reading out whole chunks to friends' The Times Books of the Year Colin Tudge started his first tree nursery in his garden aged 11, marking his life-long interest in trees.
Always interested in plants and animals, he studied zoology at Cambridge and then began writing about science, first as features editor at the New Scientist and then as a documentary maker for the BBC.
Now a full-time writer, he is a Fellow of the Linnean Society of London and visiting Research Fellow at the Centre of Philosophy at the London School of Economics.
His books include The Variety of Life and So Shall We Reap.
Information
Format: Paperback
Pages: 464 pages, Illustrations
Publisher: Penguin Books Ltd
Publication Date: 06/07/2006
Category: Trees, wildflowers & plants
ISBN: 9780141012933
Free Home Delivery
on all orders
Pick up orders
from local bookshops
Reviews
Showing 1 - 2 of 2 reviews.
Review by daniel.links
16/06/2015
Colin Tudge knows a lot about trees. In fact I don't know if I have ever come across an author who seems to know quite this much about their subject.It is an amazing tale, starting with the not nearly as apparent as you might imagine question of "what is a tree?" it proceeds to take us through their evolutionary history, genetic idiosyncrasies, and then family structure...what I took away from this is the fact that when we see trees we may actually be seeing living things with far less in common than we imagine - and oak is more closely related to a marrow than it is to a pine tree. You might have known that. I certainly didn't.The only weakness in this book is in the account of the various tree families - the authors knowledge is encyclopaedic (literally) and that is how these chapters read, as he describes the various tree families and some of their most interesting members. Fascinating and fact packed but not an easy read, and I question how many of those facts I will actually remember. If you do read the book and this section gets you down, skip it, for the final sections on trees and their lifestyles (reproduction, seeds, fruits) and interaction with humans and climate are fascinating and have more in the way of narrative structure.
Review by TPauSilver
16/06/2015
Colin Tudge really likes trees. I mean, he really really likes trees. Him and trees are so close sometimes you think he is a tree. I did enjoy this book in the sections that were more general, though there was something of a tendency to go on and to go off on wild tangents, which was a little annoying. The foundation of it, though, was solid. My problem with this book is, frankly, information overload. The middle section, an exploration of every tree that has ever lived was, well, a lot to take in. Frankly, I skipped most of it. It's more a dip in and out section then a reading cover to cover section, though the surrounding sections are much better suited to cover to cover reading. Basically, if you want a book that tells you everything ever about trees buy this book, but be aware that it will tell you EVERYTHING EVER about trees so you might be there for a while.