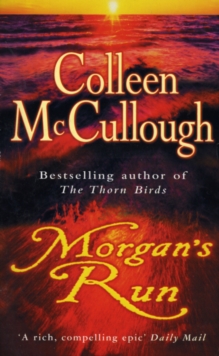 Description
It was one of the greatest human experiments ever undertaken: to populate an unknown land with the criminal, the unloved and the unwanted of English society.
Amid conditions of brutality that paralleled those of slavery, 'The First Fleet' was sent to a place no European but the legendary Captain Cook had ever seen.
Left to live or die on the hostile Australian continent, these convicts - and their equally isolated guards - occupy the centre of Colleen McCullough's compelling new epic.
Richard Morgan - convicted felon and educated, intelligent, resourceful man - finds the will to survive, experience the joys of love, and finally make an indelible mark upon the new frontier.
A thoroughly researched historical saga rich in romance, adventure and unforgettable characters, Morgan's Run has the makings of a modern classic.
Information
Format: Paperback
Pages: 912 pages
Publisher: Cornerstone
Publication Date: 02/08/2001
ISBN: 9780099280989
Free Home Delivery
on all orders
Pick up orders
from local bookshops
Reviews
Showing 1 - 3 of 3 reviews.
Review by AdonisGuilfoyle
16/06/2015
The first two parts of this Australian epic, and those ironically set in Bristol and then aboard a transportation ship, are well researched and the characters convincingly portrayed - but when Richard Morgan actually reaches New South Wales, the rot sets in. Australia is Paradise regained for poor, hard-done-by convicts, and Richard's story descends into cliched romance territory. By then, however, you're 500 pages in, and feel compelled to plough on!Nothing really happens - the only dramatic events occur in Bristol, with Morgan's original family. This is more a 'journey of discovery' for Morgan (a real-life historical figure and ancestor-in-law of the author), wrapped around copious research (which also weighs the story down in places, with footnotes, appendices and improbable dialogue). My hope was for an extended version of Thomas Keneally's 'The Playmaker', from the very capable author of 'The Thorn Birds', but the end result was disappointing. Whereas Keneally writes honestly, of men and women, English and Australian to be, McCullough romantises both; I preferred Keneally's Lt. Ralph Clark, mocked in this novel, to the sainted Richard Morgan.Morgan is hero-worship taken too far - everybody is in love with him, from gay sailors (accepted by Richard and his fellow New Age Men) to his accumulation of 'wives' (the one he dumps unceremoniously, and the Catherine Cookson waif he can't decide whether to adopt or marry). He's handsome, strong, fair and generous; he can do almost everything; he's sensitive and liberal. Gag. I much preferred the 'old' Richard in Bristol, who was quiet but moody, amiable but hapless, capable but average. When he transforms into a bronzed god, McCullough over-eggs the pudding and ruins the effect of the book.If 'Morgan's Run' referred to his being shipped to the other end of the world with the first batch of convicts sent to Australia, this would be a better story - and over 400 pages shorter!
Review by Embejo
16/06/2015
Loved this book. It's the story of a man Richard Morgan who is falsely accused of a crime in and found himself transported to Botany Bay (Australia's first penal colony) in 1788 on the First Fleet. It is a great tale which spans the years from 1775 until 1793 and depicts life for a convict in Botany Bay and later when he is transported to Norfolk Island. I loved learning about this period of time. Richard Morgan's name is in fact listed on the historical records as being a convict on the first fleet, and did live on Norfolk Island.(I was fascinated by this because there was also a convict on the First Fleet whose surname is my maiden name. I'm not descended from him because it seems he died a couple of years after arriving and before becoming a free man. There are no records of offspring.)The story was fast paced for the most part, and I became fully engaged with the characters particularly Richard Morgan. His character was completely believable. Great Australian history lesson too. I will definitely read more of this author.
Review by LynndaEll
16/06/2015
As an emerging writer, deep into learning the skills of the craft, I read a lot of professionals' advice. Most experts suggest that a novel be developed with a plot full of action. Not surprisingly, then, I find that most books - regardless of genre - follow this model. Not so with Colleen McCullough's "Morgan's Run." This historical novel, based on the founding of The Botany Bay colony, centers on the life of one man, Richard Morgan. Begun in the mid-1700s, the story tells of the ricochet effect on British citizens as the American Colonies gained their independence from England. Times may be difficult for many in our world, but this book makes a case for calling the past anything except "the good ole' days." I highly reccommend "Morgan's Run" for those who want to read a compelling story told in a unique voice.