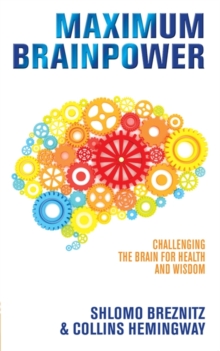 Maximum Brainpower : Challenging the Brain for Health and Wisdom
Paperback / softback
Description
Written by internationally renowned cognitive psychologist Shlomo Breznitz and technologist Collins Hemingway, Maximum Brainpower is filled with colourful real-life stories and fascinating psychological experiments that show you how to make the most of your grey matter.
This book is not only a fascinating tour of the science of the mind, it also shows how you can improve your mental abilities, extend your thinking to its highest levels and ensure your brain fitness in the future. - Why challenge and stimulus improves your brain and how to harness this process - How to separate good stress from bad - What role hope and socialising play in fighting off the worst symptoms of dementia. - How sudoku and crossword puzzles are actually little help to your brain power - Why multitasking can be detrimental to your mental health. This revelatory work will help adults of any age build and retain their mental acuity.
Expand your brainwidth to think better, live better, be better with Maximum Brainpower.
Also by Collins Hemingway