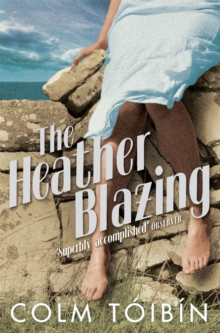 The Heather Blazing
Paperback
Description
Eamon Redmond is a judge in Ireland's high court, a man remote from his wife, his son and daughter and, at least outwardly, from his own childhood.
The life he has built for himself, between his work in Dublin and his family's retreat by the sea at Cush, is distinguished by order and by achievement.
When, like his beloved coastline, it begins to slip away, he is pulled sharply into the present, and finds himself revisiting his past. Proceeds with stately grace from past to present, incident to incident, slowly forming, as it moves, the full shape of a man's public and private life' Washington Post If Colm Toibin were a singer you would say he had perfect pitch' Spectator
Information
Format: Paperback
Pages: 256 pages
Publisher: Pan Macmillan
Publication Date: 01/09/1993
ISBN: 9780330321259
Other Formats
eAudiobook MP3 from £20.12
Free Home Delivery
on all orders
Pick up orders
from local bookshops
Reviews
Showing 1 - 1 of 1 reviews.
Review by RussellBittner
16/06/2015
"He went out to the shed to get coal. The night was pitch dark: with no moon or stars. Back inside, he sat at the window and looked out at Tuskar and the fierce beam of light which came at intervals. He watched for it, it was much slower than a heartbeat or the ticking of a clock. It came in its own time, unfolding its light clear and full against the darkness which was everywhere outside" (p. 157).<br/><br/><br/>Colm Toíbín isn't a stylist in the traditional sense of the word. There's no single sentence you can point to in this novel and call it 'lyrical.' Rather, his entire <I>oeuvre</I> has a quietly lyrical quality. He paints his prose in minimalist brushstrokes.<br/><br/><br/>If there's something to be learned from Colm Toíbín, it's that mood, setting, dialogue, drama – even the national character of an entire people – can be gleaned, at least intellectually, from the barest of brushstrokes.<br/><br/><br/>That – at least to <I>my</I> way of thinking – is no mean accomplishment.<br/><br/><br/>As I sit here now in Brooklyn, New York on the cusp of winter, I've had the advantage of chilly, drizzly, gray days as background to my reading of <I><B>The Heather Blazing</B>.</I> It couldn't have been <I>staged</I> any better! God knows, this is not a beach book. It's not really a spring or summer book of any kind. An occasional crackle from a fireplace – together with a cup or two of tea – might enhance my reading experience, but neither of them is really necessary to complete the picture of Colm Toíbín's portrait of contemporary Ireland.<br/><br/><br/>'Bleak' is the word that first comes to mind – but not 'bleak' in the traditional sense. That kind of 'bleakness' has been done to death in Irish, British – and more recently, in American – literature. Colm Toíbín's 'bleakness' feels as natural to this story as unremitting sunshine would feel to most stories about Southern California. And it's the 'bleakness' of Ireland in the mid-twentieth century that sets the tone of the entire novel.<br/><br/><br/>But the novel is also about a marriage – starting with a courtship at the time of a political campaign in which both characters are engaged in a supporting role of the Fianna Fáil national party – and about growing old together and dying, all of it told in Toíbín's singular, minimalist style.<br/><br/><br/>Highly recommended – not for the fireworks, but for the admirable restraint.<br/><br/><br/><B>RRB<br/>12/05/14<br/>Brooklyn, NY</B><br/>