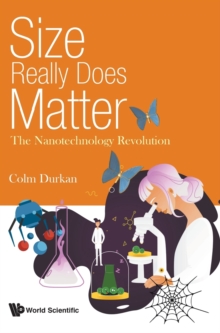 Size Really Does Matter: The Nanotechnology Revolution
Hardback
Description
Nanotechnology is a buzz word many of us have heard but are uncertain what it really means.
This book works to dispel the myths and unravel the truth about this branch of science and technology that has already touched many aspects of our lives, from cheaper and faster medical diagnostic tools and more effective ways to deliver existing ones to helping to create new medicines and electronic devices.Size Really Does Matter starts by looking at the science and history of nanotechnology, followed by real-life examples of how it is used, what cutting-edge research is being carried out and why, and potential risks of this exciting new technology.It is written in an accessible style with genuine enthusiasm for the topics it addresses, including how nanotechnology hopes to address problems in several fields, such as cancer research, novel devices, new materials and improved manufacturing methods for existing products.Dr Colm Durkan talks about this book on the University of Cambridge's websiteColm in conversation with Luke Robert Mason, a science communicator and the Director of Virtual Futures at Waterstone, Cambridge.
Durkan & Mason discuss why quantum theory is both 'silly and unquestionably correct', how nanotech is portrayed by Hollywood, the new forms of diagnosis made possible by labs-on-chips, atomic manipulation, and much more!
Information
Format: Hardback
Pages: 236 pages
Publisher: World Scientific Europe Ltd
Publication Date: 05/03/2019
Category: Nanotechnology
ISBN: 9781786346612
Free Home Delivery
on all orders
Pick up orders
from local bookshops