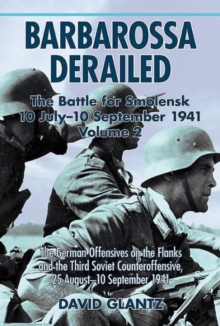 Barbarossa Derailed: the Battle for Smolensk 10 July-10 September 1941 : Volume 2: the German Offensives on the Flanks and the Third Soviet Counteroffensive, 25 August-10 September 1941
Paperback / softback
Description
This groundbreaking new study, now significantly expanded, exploits a wealth of Soviet and German archival materials, including the combat orders and operational of the German OKW, OKH, army groups, and armies and of the Soviet Stavka, the Red Army General Staff, the Western Main Direction Command, the Western, Central, Reserve, and Briansk Fronts, and their subordinate armies to present a detailed mosaic and definitive account of what took place, why, and how during the prolonged and complex battles in the Smolensk region from 10 July through 10 September 1941.
The structure of the study is designed specifically to appeal to both general readers and specialists by a detailed two-volume chronological narrative of the course of operations, accompanied by a third volume, and perhaps a fourth, containing archival maps and an extensive collection of specific orders and reports translated verbatim from Russian.
The maps, archival and archival-based, detail every stage of the battle.
Within the context of Guderian's southward march toward the Kiev region, volume 2 in this series describes in unprecedented detail the Red Army's attempts to thwart German offensive plans by defeating Army Group Center in the Smolensk region with a general counteroffensive by three Red Army fronts.
This volume restores to the pages of history two major military operations which, for political and military reasons, Soviet historians concealed from view, largely because both offensives failed.
This volume includes: The Northern Flank: Group Stumme's (Third Panzer Group) Advance to Velikie Luki, Toropets, and Zapadnaia Dvina, 22 August-9 September 1941; German Strategic Planning, the Tilt toward Kiev, and Second Panzer Group's Advance Across the Desna River, 22-28 August 1941; The Third Soviet Counteroffensive, including the Western Front's Dukhovshchina Offensive, 26 August-6 September1941, the Reserve Front's El'nia Offensive, 30 August-10 September 1941, and the Briansk Front's Roslavl'-Novozybkov Offensive, 29 August-14 September 1941.
Based on the analysis of the vast mass of documentary materials exploited by this study, David Glantz presents a number of important new findings, notably: Soviet resistance to Army Group Center's advance into the Smolensk region was far stronger and more active than the Germans anticipated and historians have previously described; The military strategy Stalin, the Stavka, and Western Main Direction Command pursued was far more sophisticated than previously believed; Stalin, the Stavka, and Timoshenko's Western Main Direction Command employed a strategy of attrition designed to weaken advancing German forces; This attrition strategy inflicted far greater damage on Army Group Center than previously thought and, ultimately, contributed significantly to the Western and Kalinin Fronts' victories over Army Group Center in December 1941.
Information
Format: Paperback / softback
Pages: 624 pages
Publisher: Helion & Company
Publication Date: 24/02/2016
Category: European history
ISBN: 9781911096108
Free Home Delivery
on all orders
Pick up orders
from local bookshops
Also by Colonel David M. Glantz | View all