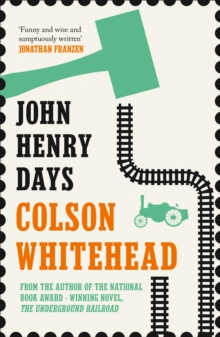 John Henry Days
Paperback
Description
From the author of `The Underground Railroad', Winner of the Pulitzer Prize and the National Book Award, and Longlisted for the 2017 Man Booker Prize. `John Henry Days' is a novel of extraordinary scope and mythic power.
It established Colson Whitehead as a pre-eminent American writer of our time. Building the railways that made America, John Henry died with a hammer in his hand moments after competing against a steam drill in a battle of endurance.
The story of his death made him a legend. Over a century later, J. Sutter, a freelance journalist and accomplished expense account abuser, is sent to West Virginia to cover the launch of a new postage stamp at the first 'John Henry Days' festival. John Henry Days is a riveting portrait of America.
Through a patchwork of interweaving histories Colson Whitehead triumphantly reveals how a nation creates its present through the stories it tells of its past.
Information
Format: Paperback
Pages: 400 pages
Publisher: HarperCollins Publishers
Publication Date: 01/06/2002
ISBN: 9781841155708
Free Home Delivery
on all orders
Pick up orders
from local bookshops
Reviews
Showing 1 - 2 of 2 reviews.
Review by LukeS
16/06/2015
Colson Whitehead follows up the brilliant "The Intuitionist" with another strong effort. This story recounts the trip an independent journalist (hack? flack?) to the small hill town where they will celebrate the legend of John Henry, the mythic steel-driving man who died in competition with a machine. The novel takes us through different historical stages in which the legend takes root and grows. The author also effectively lampoons present-day journalism, bringing up the ridiculous effort of Sutter, the hack, to break the record for traveling on consecutive press junkets.The inventive recounting of the railroad employee himself is vivid and immediate. We see superhuman effort and very human emotion. Also memorable is a segment set in Tin Pan Alley, portrayed as squalid and noisome, where the classic folk song was written. The present-day sections of the narrative contain a realistic, non-blinking expose of the cynical efforts communities make to attract visitors, and the way the media use and abuse those efforts.Not as cerebral or as haunting as "The Intuitionist," this novel shines in its own vivid way, nevertheless. I recommend it, and I will be moving on to Whitehead's other work.
Review by ljbwell
16/06/2015
John Henry Days weaves together several threads through several different periods in American history from around 1870 through to the present. The central present-day story revolves around J., an African American junketeer journalist. J. covers pretty much any PR junket if there's free food, drink, travel, and receipted expenditures (legitimate or otherwise) to be had. In fact, J. is chasing a junket record. He has agreed to cover the release of a stamp commemorating John Henry in a new folkheroes collection in Talcott, West Virginia, where the legend of John Henry* was born. (*a railroad worker, he challenged and beat a steam drill, only to collapse & die) But the book flows from J.'s story, to others, including that of Pamela, the daughter of a John Henry memorabilia collector in West Virginia; Alphonse Miggs, the stamp collector specializing in railroad-related stamps; & John Henry himself. Between the brackets of John Henry and present, other episodes are also tied in different ways to the legend, such as the African American academic researching the ballad of John Henry in the 1920s, different musicians and their relationship to the ballad, & the young middle-class African American girl (1950s or 60s?) who buys John Henry ballad sheet music. This is a story of struggle and fate. Of striving for more and being broken by it. Of wanting to feel powerful, even if it kills you. Of always having to prove yourself. Of trying to make a name for yourself, to stand out in the crowd. John Henry Days builds a lyrical, compelling journey spanning over 100 years in American history.